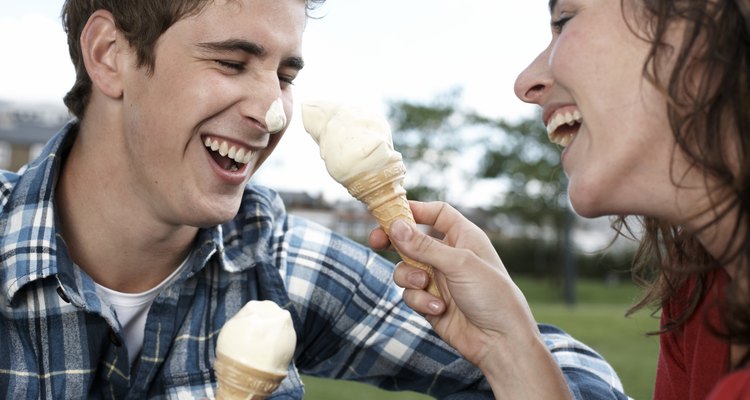 MM Productions/Photodisc/Getty Images
Your first relationship after a divorce is unique: Never before have you been in this position. You may be feeling vulnerable after the breakdown of your marriage or uncertain about what type of partner you are looking for. Take some pressure off yourself by taking your new relationship one step at a time and making your own needs a priority.
Open Your Heart
Remain open to all eventualities. Allow yourself to fall in love, but be prepared to have your heart broken, too. The first time you fall in love after divorce is as equal in intensity as your first love, suggests writer and divorcee Rebecca Lammersen in the article "How to Find Love After Divorce" for "The Huffington Post." Your new partner is likely to be the complete opposite of your ex. This union is your chance to work out what you want and, equally, what you don't want from a relationship.
Trust Your Partner
Trusting may be difficult if there was a lack of trust in your marriage or if you were treated badly by your ex-spouse and your self-esteem has taken a battering. You will never have a happy, healthy relationship if you don't learn to trust again, warns divorce coach Kimberly Pryor Wilkes in the article "Dating After Divorce? Three Pitfalls to Avoid" for "Your Tango." Don't scare away a good person because you wear your distrust like a badge on your sweater. View your new partner as his own person, and observe the ways in which he is different from your ex.
Reveal Your Desires
Be open about your desires, and let your partner know what turns you on and what doesn't. If your marriage suffered from a lack of intimacy or passion, don't let history repeat itself. Explore your sexual side, suggests Lammersen. Unleash your inner goddess. Try new positions, or spice things up with toys or role play.
Lose Your Baggage
Your new relationship has a greater chance of success if you release the baggage from your marriage. The best way to do this is to consider the part you played in the breakdown of the marriage. Problems in a relationship are rarely done by one person only. Consider how you treated your spouse, how well you communicated your needs and fears, how you reacted to conflict or stress and how you could have behaved in a more constructive way. When you have worked out the answers to these questions, you can truly move on and get the most out of your new relationship, Pryor Wilkes says.
Keep Your Feet on the Ground
During the honeymoon phase of your new relationship, everything is fresh, exciting and full of possibility. After the stress of your divorce, you deserve to have some fun. Enjoy yourself, but don't get carried away, warns clinical psychologist Deborah Khoshaba in the article "The Early Stages of Falling in Love" for "Psychology Today." Be aware that hormones are at work here and that this stage of a relationship does not last forever. Make time for your friends, and don't give up your separate hobbies and interests. Stay mentally and physically healthy by eating healthily, doing regular exercise and getting plenty of sleep.
References
Writer Bio
C. Giles is a writer with an MA (Hons) in English literature and a post-graduate diploma in law. Her work has been published in several publications, both online and offline, including "The Herald," "The Big Issue" and "Daily Record."
Photo Credits
MM Productions/Photodisc/Getty Images