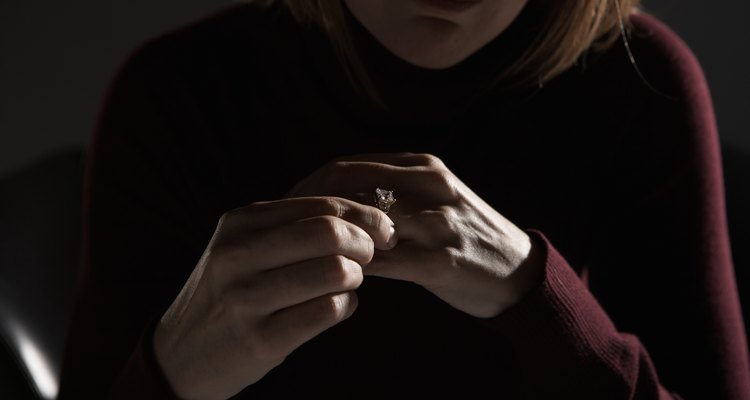 Thomas Northcut/Photodisc/Getty Images
Moving on after your long-term marriage ends becomes more difficult with kids in the mix. Not only do you have your own emotions to work through, but you also have kids who may be sad, confused or angry. It is possible, however, to move on after a breakup with your husband, so both you and your kids can thrive.
Give Yourself Time to Process the Situation
When you separate from your spouse, give yourself permission to feel sad and grieve over the end of the marriage. Most couples have plenty of good times to remember despite the difficulties that lead to a breakup. You may still have love for your partner. Don't expect yourself to move on immediately with the kind of long-term history you have with your spouse. Having kids together makes that history even more complex.
Jumping into dating quickly after the marriage ends may cause you more difficulty. If you feel like you're ready to date, make sure you're doing it for the right reasons and not just to bury the emotions that come with the split from your spouse.
Focus on Your Kids
Moving forward is a group effort when you have kids. You have to balance your self-care with supporting your kids as they work through the divorce. Spend as much time with your kids as possible, so they understand that they are still a priority. Encourage them to share their feelings, even if they're negative. Let them know that they can feel sad, angry, hurt, confused or uncertain. Taking your child to a counselor can be beneficial if the divorce is difficult to handle.
Another important aspect of protecting your kids is keeping your relationship with your spouse civil. No matter how you feel about your partner, never let your kids hear you say negative things or argue. Don't expect your kids to pass messages back and forth between parents. Handle communication yourself, so your kids don't get stuck in the middle.
Practice Self-Care
Taking care of yourself can fall by the wayside when you're transitioning to being a single parent while dealing with the breakup. As stressful as the situation may seem, it's important to continue meeting your own needs and taking care of yourself. That self-care can help you heal from the emotions of the split and make you feel better about yourself.
If you're having a tough time with self-care, start by getting into a routine that works for your new situation. That routine can make life start to feel a little normal and familiar again. Set aside time to take care of yourself as part of that routine.
Build a Support Network
You may be a single parent, but you don't have to do everything solo. Build up a support network to help you and your kids get through the separation. You might ask your parents or other family members to watch your kids, or a friend might help you get the kids to their practices. A neighbor whose kids go to the same school could help you with carpool. Don't forget about emotional support. A therapist is a professional option. Your friends can also help support you emotionally on a day to day basis.
Rediscover Yourself
Instead of focusing solely on the loss of your marriage, look at the split as an opportunity to rediscover yourself. Marriage often involves compromise. Perhaps you felt like you changed or had to give up your own interests during your marriage. Now is your time to explore what you really want for yourself.
You can make your life whatever you want it to be. Think about the things that bring you joy. Consider things you did before you were married or early in your marriage. Perhaps activities have grabbed your attention, but you pushed them aside while married. Give those a try now. You can even get your kids involved. If you've always wanted to try kayaking, take your kids along, for example. Getting out and trying new things can help you feel better.
References
Resources
Writer Bio
Shelley Frost writes professionally on a full-time basis, specializing in lifestyle, family, parenting and relationship topics. She holds an education degree and has extensive experience working with kids and parents.
Photo Credits
Thomas Northcut/Photodisc/Getty Images