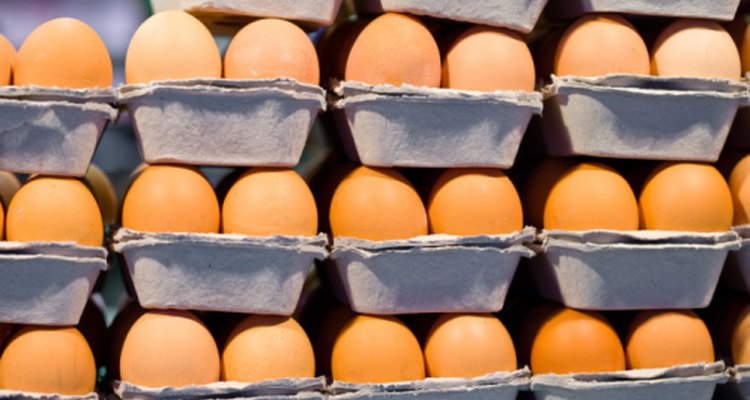 Jupiterimages/Photos.com/Getty Images
When it comes to choosing what seasonings you want to use in your egg dishes, the choices are many. Your choice depends on which egg recipe you are making and what flavors you like best. There are particular seasonings that lend themselves quite well to use in egg recipes.
Souffles and Omelets
An egg soufflé which features cheese can have added dill, cumin or chives. An herb omelet can consist of eggs and spices, including oregano, tarragon, chervil, dill, basil, chives, marjoram, summer savory and thyme. Omelets historically contain a combination of chives, chervil, tarragon of parsley or just one, or some, of these herbs.
Deviled and Scambled Eggs
Deviled eggs can be spiced up with Tabasco sauce, turmeric, ground cumin, chervil, chili powder, thyme, chives or tarragon. Perk up your scrambled eggs with paprika, celery seed, basil, marjoram, dill or celery seed. Other options include tarragon, rosemary, summer savory, parsley and saffron.
Chervil
Chervil is often used in egg dishes and is considered a basic salad ingredient in France and northern Italy. Chervil, which has a lemon-anise flavor, can be used as a garnish and is good when mixed with chives, tarragon and parsley.
Basil, Celery Seed and Mustard Powder
Basil can be used in egg dishes and celery seed is good in egg salad. Put some curry powder in your stuffed eggs or deviled eggs. Mustard powder can be used in the egg yolks before stuffing the egg whites. You can also put mustard powder into egg salad.
Tarragon
The French refer to tarragon as the king of herbs because it is the main flavoring in many of the classic French sauces. It enhances the flavor of eggs and other foods. Tarragon can be preserved in vinegar so it doesn't lose its potency.
Turmeric
Turmeric has a bitter, warm, peppery flavor and smells like ginger and orange. It goes well with egg dishes.
Dill Weed
Dill weed is not as strong as dill seed. Dill weed is the leaf and stem of the dill plant. It tastes delicious in butter.
References
Writer Bio
Cindi Pearce is a graduate of Ohio University, where she received her bachelor's degree in journalism. She completed both the undergraduate and graduate courses offered by the Institute of Children's Literature. Pearce has been writing professionally for over 30 years.
Photo Credits
Jupiterimages/Photos.com/Getty Images