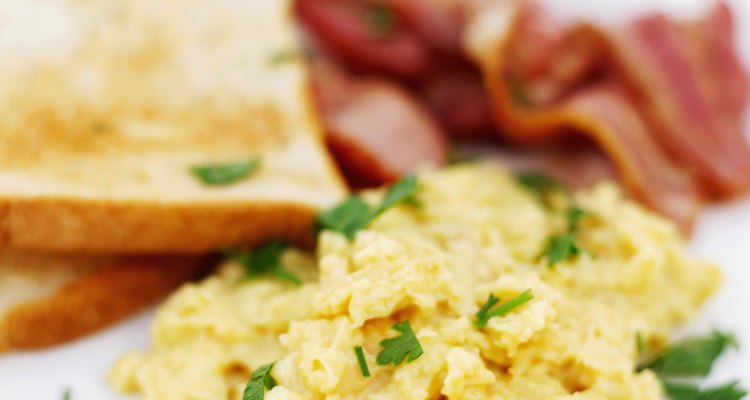 George Doyle/Stockbyte/Getty Images
Creamy, fluffy scrambled eggs make a satisfying meal any time of day, and cooking them on a electric griddle can reduce clean-up time. Griddles are also a convenient way to cook hot food in an RV, camper or dorm room, since all you need is an electrical outlet. You can change up the flavor of your scrambled eggs by adding herbs, spices, meat, vegetables or cheese.
Step 1
Preheat your griddle to medium heat, or about 275 to 300 degrees Fahrenheit. Depending on the griddle, this may take up to 10 minutes or more.
Step 2
While the griddle is heating, crack the eggs into the bowl. With a whisk or fork, beat in 1 tbsp. milk or cream for every egg used.
Step 3
Stir any additional ingredients into the egg-milk mix. Veggies and meat should be diced, and cheese should be grated or crumbled.
Step 4
Place a pat of butter or pour a tbsp. of oil on the griddle and spread across the surface with the spatula or spoon. Many griddles have non-stick surfaces, so you may be able to use less to keep the eggs from sticking.
Step 5
Pour the egg mix on the hot griddle and stir gently with the spoon or spatula. Constant stirring will result in small curds and infrequent stirring will produce larger curds.
Step 6
Continue cooking for about 2 minutes, or until the egg mix has thickened. Remove the eggs from the griddle when they are almost but not quite the desired consistency. The eggs will retain the heat of the pan and will continue cooking on the plate.
Step 7
Season the eggs to taste and serve.
Step 8
Turn off griddle and allow to cool. Clean according to package instructions.
References
Joy or Cooking: Irma S Rombauer, Marion Rombauer Becker, Ethan Becker
Tips
Try using fresh or dried basil, parsley, garlic or dill to scrambled eggs. Sauté sliced mushrooms, zucchini, peppers or onions ahead of time to add some vitamins and more flavor to your scrambled eggs. Crumbled feta cheese, grated cheddar cheese or chopped cooked bacon, sausage or smoked salmon are all great savory additions.
Warnings
When using an electric griddle, be sure to place it on a flat, heat-resistant surface before plugging it in.
Always read and follow all instructions that came with the griddle. Do not use a griddle that is damaged or one that has a frayed cord.
Writer Bio
Heidi Almond worked in the natural foods industry for more than seven years before becoming a full-time freelancer in 2010. She has been published in "Mother Earth News," "Legacy" magazine and in several local publications in Duluth, Minn. In 2002 Almond graduated cum laude from an environmental liberal arts college with a concentration in writing.
Photo Credits
George Doyle/Stockbyte/Getty Images