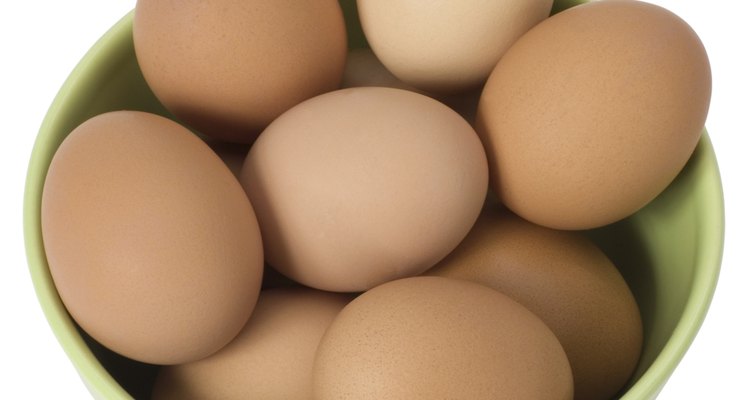 Photos.com/PhotoObjects.net/Getty Images
Whether you're looking for a simple way to hard "boil" many eggs at once or you want to make perfectly round egg patties for breakfast sandwiches, your cupcake pan is the key to success. The 12-hole pan is an ideal vessel for quickly preparing eggs for a group, and a handy tool when it comes time to dyeing eggs for Easter.
"Boiled" Eggs
Step 1
Preheat the oven to 325 degrees Fahrenheit. While the oven heats up, place one egg, in its shell, into each cupcake hole.
Step 2
Place the cupcake pan in the oven and cook the eggs until they are done, about 30 minutes.
Step 3
Remove the eggs from the pan and place them in a large bowl filled with ice water for 10 minutes to stop the cooking process.
Baked Eggs
Step 1
Preheat the oven to 350 degrees F. Spray each cupcake hole with non-stick cooking spray.
Step 2
Crack one egg into each slot. Alternately, scramble the eggs and add shredded cheese and chopped, cooked vegetables or meat. Pour the scrambled egg mixture into the pan, filling each section about 3/4 of the way full. Season the eggs as you like.
Step 3
Bake the eggs until they are cooked to your liking. After the eggs have been in the oven for about seven minutes, check them every few minutes to ensure that they don't overcook.
Step 4
Remove the pan from the oven and allow the eggs to cool for at least five minutes before scooping them out of the pan. This short cooling period makes it easier for the eggs to slip out of the pan.
References
Writer Bio
Irena Eaves began writing professionally in 2005. She has been published on several websites including RedPlum, CollegeDegreeReport.com and AutoInsuranceTips.com. Eaves holds a Bachelor of Science in journalism from Boston University.
Photo Credits
Photos.com/PhotoObjects.net/Getty Images