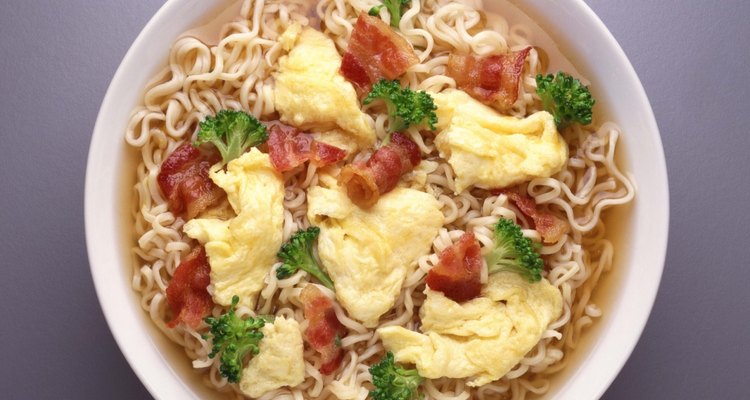 Jupiterimages/Stockbyte/Getty Images
Momofuku Ando gave the world one of its most convenient and least expensive foods when he created instant ramen. A raw egg offers protein, flavor and a rich, satiny texture that kicks this instant noodle soup up a sophisticated notch. Sprinkle chopped scallions and toasted sesame seeds on top and you've got a simple, quick and elegant meal in less than 10 minutes -- for just pennies a bowl.
Step 1
Fill a pot with enough water to cover the uncooked noodles, plus about 2 inches extra. Bring the water to a boil.
Step 2
Stir in the contents of the seasoning packet, making sure that it dissolves rather than clumping.
Step 3
Add the ramen noodles, breaking them up as they soften. Cook the noodles for half the time specified on the ramen package, which is usually three to five minutes.
Step 4
Crack an egg into a small bowl. Leave it whole for a poached egg, or beat it for more of an egg-drop soup effect.
Step 5
Pour a whole egg into the ramen soup without stirring it. Swirl the noodles and water with a wooden spoon and add the beaten egg to get silky egg-drop ribbons of egg.
Step 6
Cover the pot and remove it from the heat. Let the ramen and egg sit for about three minutes or until the egg is heated through. A whole egg will take slightly longer than a beaten one, but either requires at least three minutes.
References
Tips
Discard the seasoning packet and substitute rice wine vinegar, soy sauce and Chinese five-spice or ginger for a dish that is lower in sodium.
Warnings
Do not boil the egg in the ramen if you prefer the yolk runny.
Writer Bio
Brynne Chandler raised three children alone while travelling, remodeling old homes, taking classes at the Unioversity of California Northridge and enjoying a successful career writing TV Animation. Her passions include cooking, tinkering, decorating and muscle cars. Brynne has been writing fun and informative non-fiction articles for almost a decade. She is hard at work on her first cookbook, which combines healthy eating with science-based natural remedies.
Photo Credits
Jupiterimages/Stockbyte/Getty Images