Adrián González de la Peña/Demand Media
The girls from television's "Sex and the City" knew how to party. Celebrate in style with a throwback "Sex and the City" theme party. Invite your girlfriends over for a glamorous evening. The Carries in the group will love dressing up, the Charlottes will enjoy hanging out with the girls, the Samanthas will love the decadent foods and the Mirandas in the bunch will benefit from a night off from work.
Invitations -- Keep Them Casual
Adrián González de la Peña/Demand Media
A true city girl would forgo the traditional invitations and call her gal pals to let them know about the party. If your guest list is longer than a few, send invitations via email. Websites like Evite.com offer themed selections and make sending out notices convenient. Electronic invitations also make it easy for guests to RSVP, giving you a better idea of how much food and drink to have on hand.
Decorations -- Think Pink
Adrián González de la Peña/Demand Media
Think pink for your "Sex and the City" party decor. Drape pink feather boas on tables. Fill martini glasses with pink-colored water and float white candles in each. Bring Manhattan to your house by putting up large cardboard cutouts of skyscrapers, which are available at prom and party supply stores. Use black and silver serving pieces on the table to glam up the event. Float bunches of silver balloons in corners of the rooms.
Attire -- Glam Up and Loosen Up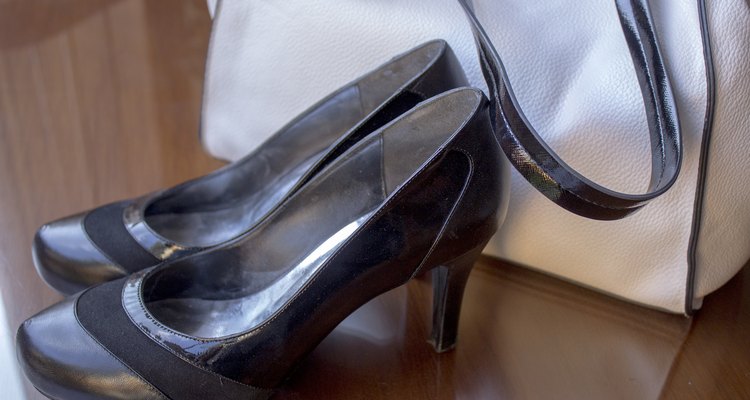 Adrián González de la Peña/Demand Media
Have your guests don their party best for this event. The "Sex and the City" women are all about sky-high stilettos and fabulous bags. Encourage cocktail dresses and dressed-to-impress accessories. Now is the time to break out that extravagant hat and down-to-there dress. On the other hand, if you're hoping for a low-key girls' night in, comfy T-shirts and sweat pants are the perfect attire for noshing on snacks and combing through gossip magazines.
Food and Drink -- Keep It Fun
Adrián González de la Peña/Demand Media
You wouldn't find Carrie Bradshaw slaving over a hot stove, now would you? In the spirit of the writer whose life revolved her column "Sex and the City," and her obsession with fashion, especially, shoes, stay out of the kitchen. Food and drink at this party are all about convenience. Order Chinese takeout and splurge on decadent gourmet cupcakes. Serve up perfect cosmopolitans in martini glasses personalized with fun stem tags for each guest.
Resources
Writer Bio
A professional writer and editor, Kristi Roddey began freelancing in 1999. She has worked on books, magazines, websites and computer-based training modules, including South Carolina Educational Television's NatureScene Interactive, "Planted Aquaria," "Xtreme RC Cars" and online courses for Education To Go, Inc. Roddey holds a Bachelor of Arts in journalism from the University of South Carolina.
Photo Credits
Adrián González de la Peña/Demand Media