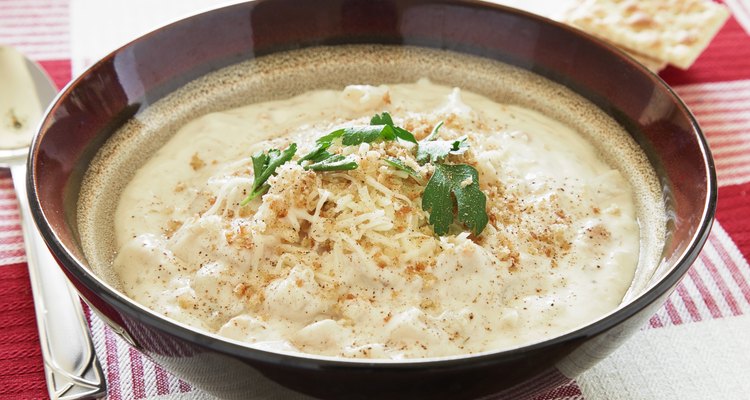 toddtaulman/iStock/GettyImages
Whatever your preferred style, clam chowder is so rich and hearty it can stand alone as a meal. Like any main dish, clam chowder does best with matching side dishes, ideally those that won't impinge on the mild deliciousness of the star ingredient, clams. When choosing sides for any main, focus on the three Cs: contrast, complement and coordinate.
For contrast, go with a hearty texture to play off the creaminess of the chowder, such as crisp roasted root vegetables. To complement the chowder, nothing beats a crusty hunk of country bread or rich biscuits. To coordinate, think matching flavors, none that overpower the delicacy of the chowder. Get your chowder on!
Starters and Apps
Go with light and refreshing here; you want to whet the appetite, not satisfy it. With that in mind, few preparations beat a freshly made chilled salad. The following work splendidly:
Corn salad with tomatoes, cucumber, basil and olive oil-based dressing
Baby greens dressed in olive oil and lemon juice
Arugula with pears, walnuts and cranberries, lightly dressed with balsamic and olive oil
Chickpea salad with avocado and sun-dried tomatoes
Watermelon and feta with roughly chopped walnuts.
Breads and Baked Goods
Sadly, bread often gets relegated to an afterthought. All too often, hearty soups like clam chowder get paired with a white bread or roll with a loose crumb, little taste and little absorption ability. Whether you prefer to break up your bread to serve as ad hoc croutons or you like to get "down and dirty" and use your bread to sop up every last remnant of glorious chowder, go big or go home. That is to say, go for the crustiest, most rustic European-style bread you can find, preferably something artisanal from a bakery rather than a supermarket shelf. Varieties to try include:
Peasant levain

Campagnolo
French or Italian loaf
Pan rustico (Spanish).
Roasted Vegetables
Vegetables roasted with a simple vinaigrette cut through the richness of clam chowder masterfully without drowning out its more delicate flavors. You want to roast the vegetables until caramelized but with a bit of an al dente bite, so an oven temperature of around 450F works best; check doneness after 15 minutes.
You can use any vegetable you like, but hardy vegetables, such as beets, turnips and carrots, offer the most contrast and crunch. French bistro-style fries, the thin pommes frites, also make a fantastic match. Check out the following combinations:
Julienned carrots and beets roasted in balsamic vinaigrette

Asparagus, tomatoes and shallots in lemon vinaigrette
Fennel and tomatoes with fresh herb vinaigrette
Parmesan-roasted mushrooms and fennel
Jerusalem artichokes and golden beets in champagne vinaigrette.
Pair clam chowder with sides that reflect how it was meant to be served – simply and without pretension – and you can't go wrong.
Writer Bio
A.J. Andrews' work has appeared in Food and Wine, Fricote and "BBC Good Food." He lives in Europe where he bakes with wild yeast, milks goats for cheese and prepares for the Court of Master Sommeliers level II exam. Andrews received formal training at Le Cordon Bleu.