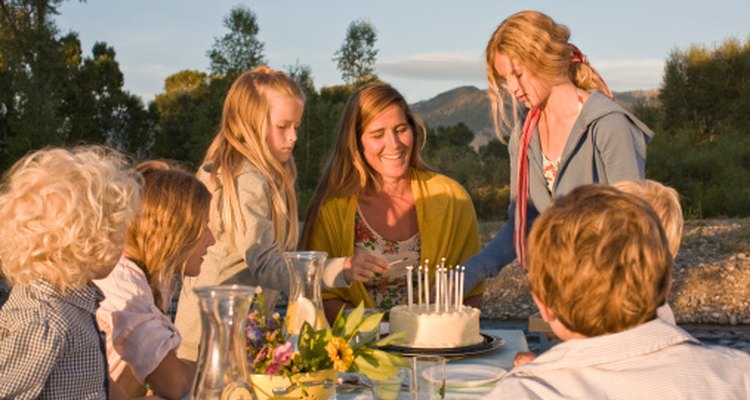 Darrin Klimek/Lifesize/Getty Images
It can be hard to find the right thing to wear to a 12th birthday party. Twelve-year-old girls have many fashion options, but not all outfits are suitable for every occasion. At 12 years old, girls must bridge the gap between child and teen to find cute and age-appropriate clothing. Luckily, there are many cute outfit options for 12th birthday parties.
Slumber Party
Just because a party is a sleepover doesn't mean that a 12-year-old girl cannot dress in a cute way. Wear pajamas relevant to the season. In winter, wear a matching long sleeved pajama top and pants. In the summer, a cute pair of sleep shorts with a sleep tank can make a perfect outfit. Wear an elastic band in your hair like a ponytail or half ponytail. Bracelets and a delicate necklace can add details to a sleepover outfit. Wear cute slippers or flip-flops.
Dress Up Party
At a dress-up birthday party, a 12-year-old should wear her best clothing. A pretty dress or a cute skirt and blouse work well for a 12th birthday party. Ballet flats or kitten heels are also appropriate for a tween girl. Accessorize with simple jewelry. Fix hair into loose curls or a sweeping updo. Paint the nails a delicate color to fit in with the elegant theme of the party. Top the outfit with a color-coordinated cardigan or blazer to add warmth.
Active Party
The dress code for an active 12th birthday party is much different than that for a formal party. Dress in a way that will not hamper movement or cause indecency. Jeans or shorts can work in any season. Choose long pants for colder temperatures and for hiking. Wear a modest top suitable for bending and jumping. Sneakers or other sturdy shoes are the best choice for an active party. Choose accessories based on the rest of the outfit, but make sure they will not get in the way of the birthday party activities.
Themed Parties
Theme or costume 12th birthday parties, can be a chance for particularly cute outfits. Choose an ensemble based on the theme. For a color theme, select an outfit based on approved colors. For a wacky party, the look for the strangest assortment of colors and clothing you can find in her closet. Follow the theme and allow the girl to express her personality in what she chooses to wear.
References
Writer Bio
Brenda Priddy has more than 10 years of crafting and design experience, as well as more than six years of professional writing experience. Her work appears in online publications such as Donna Rae at Home, Five Minutes for Going Green and Daily Mayo. Priddy also writes for Archstone Business Solutions and holds an Associate of Arts in English from McLennan Community College.
Photo Credits
Darrin Klimek/Lifesize/Getty Images