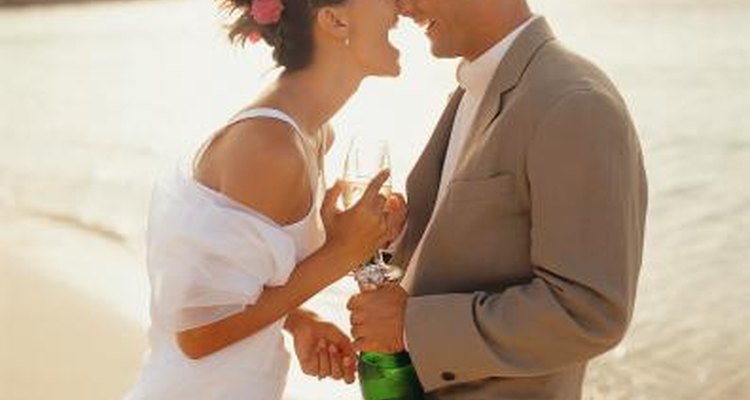 Stockbyte/Stockbyte/Getty Images
Online dating is a household term in today's busy world. Obligations such as work, family and friends can reduce the time available to meet new people. Luckily, Internet dating dramatically reduces the time and effort required to find someone. It allows you to focus on people with similar beliefs and interests and screen out those with whom you are incompatible. Although online dating is useful for finding any relationship, meeting a husband requires a specific approach. If you seriously wish to find a lifelong partner, there are plenty of opportunities.
Getting Started
Step 1
Choose a dating site. There are various sites available, such as Plenty of Fish, OkCupid, eHarmony and FriendFinder.
Step 2
Research the sites. Some dating sites, such as eHarmony and FriendFinder, require a monthly fee to interact with other members. Plenty of Fish and OkCupid, on the other hand, are free. Regardless, these sites allow you to browse their members before you sign up. This gives you a feel for the site and helps you determine which one suits you.
Step 3
Arrange a schedule. Do not let your online searches interfere with other obligations, such as work or family. Browse profiles during your spare time.
Profile
Step 1
Generate interest. Dating sites require you to create a brief header or tagline above your profile. Since you want to find a husband, cater your profile to reflect this. Phrases like "looking for a commitment," "seeking a long-term partner" or anything else indicative of serious dating intentions will attract readers with the same intentions.
Step 2
Upload pictures. Do not use outdated photos, as this misrepresents how you currently look. Instead, take several pictures of yourself and choose the best ones you can find. Findyourhusbandwife.com explains that you are ten times more likely to get a response if your profile has several photographs.
Step 3
Be honest. Although it may be tempting to alter information about your age or body type, dishonesty is not the way to start a serious relationship. If you are truthful and the person chooses you, then you know that he is genuinely interested in who you are, not who you claim to be.
Step 4
Explain your interests. This gives potential respondents an idea about who you are and matches you with someone truly compatible. Sports, hobbies, movie and food interests are just a few things to mention. Common interests are important for a long-lasting relationship.
Step 5
State your needs. In order to be matched with the right person, it is imperative that you explain exactly who you are looking for. Findyourhusbandwife.com recommends several positive keywords, such as "faithful," "loyal," "loving," and "romantic," among others.
Step 6
Take your time. Once another member contacts you, get to know him online. Do not invite a prospective partner to meet in person right away. Although there is no set time frame, common sense would dictate that you wait at least two or three weeks, if not more.
Step 7
Meet in public. Once you are comfortable dealing with the person via e-mail or instant messages, invite her to get together. However, do it somewhere safe, such as a coffee shop or a restaurant. This way, you can make a quick escape if the person turns out to not be what you expected.
References
Resources
Tips
Warnings
Be very cautious. Some people can make themselves look good in writing, but they may be entirely different in real life.
Do not rush your marriage. Finding a husband is a long-term commitment. If you rush into something this serious, it could end in disaster. Let the relationship grow and progress on its own.
Writer Bio
Alex Saez is a writer who draws much of his information from his professional and academic experience. Saez holds a Bachelor of Arts in English literature from Queen's University and an advanced diploma in business administration, with a focus on human resources, from St. Lawrence College in Kingston, Ontario.
Photo Credits
Stockbyte/Stockbyte/Getty Images