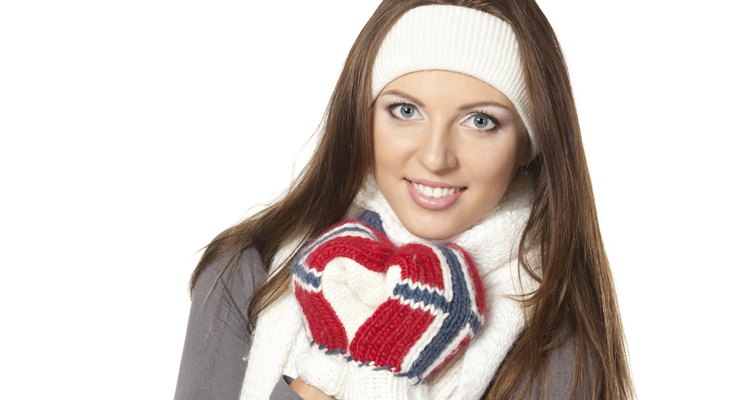 Paffy69/iStock/Getty Images
Even on good hair days, cold weather may have you reaching for your hat -- or a headband. Ear warmer headbands keep your head warm without totally messing up your hairstyle. They are typically made of knit or fleece, and may feature patterns or a neutral surface for a low-fuss look. Both men and women can wear them to stay warm, while avoiding the dreaded "hat hair." Throw on a headband on the next cold day and upgrade your good hair day to a great one.
For Women
Brush your hair to remove any knots or tangles. Position the brush at the center of your forehead and move it back over the crown of your head to eliminate your natural part. Use your fingertips instead of a brush if you have curly hair, to keep the natural texture intact. Part your hair to the side if your hair is shorter than chin length.
Place one thumb on each temple and move them toward the back of your head, until they are aligned with the crown. Pick up the section of hair that falls between your thumbs. Skip this step if you have short hair.
Hold the section of hair straight up and insert a rat tail comb on the underside about 3 inches away from the root. Brush the hair down toward your scalp seven times to create volume, so that your hair doesn't fall flat underneath the headband. For short hair, pick up a dime-sized amount of styling paste with your fingertips and pull it through the hair at the crown of your head, while directing the hair straight up for definition.
Hold on to one side of the headband with each hand, positioning any embellishments toward the front. Pull the headband over your head and hair, placing one side over each ear.
Position the tail end of a rat-tail comb right above the headband, on the right side of your head. Use it to gently lift the hair that falls above the headband to emphasize volume. Repeat, working your way around the back of your head and over to the left side.
For Men
Comb your bangs to one side if applicable, so that the headband will not push them into your eyes.
Grasp one side of the headband with each hand. Hold onto the down-turned curve on each side, which is often present on ear warmers for men.
Pull the headband over your head, and position the curved sections over your ears, facing down.
Use your fingertips to pick up any long sections of hair at the root, and gently pull them upward to loosen them beneath the headband. This will prevent discomfort throughout the day, and keep your hair looking natural.
References
Writer Bio
Celeigh O'Neil has been writing professionally since 2008. She has a Bachelor of fine arts from the University of Ottawa, as well as degrees in fashion illustration/design, digital arts and certification in hair and makeup artistry. O'Neil was a frequent contributor to Toronto's "Dialog" newspaper and has worked as an instructional writer, creating lessons in fashion, art and English for students of all ages.
Photo Credits
Paffy69/iStock/Getty Images