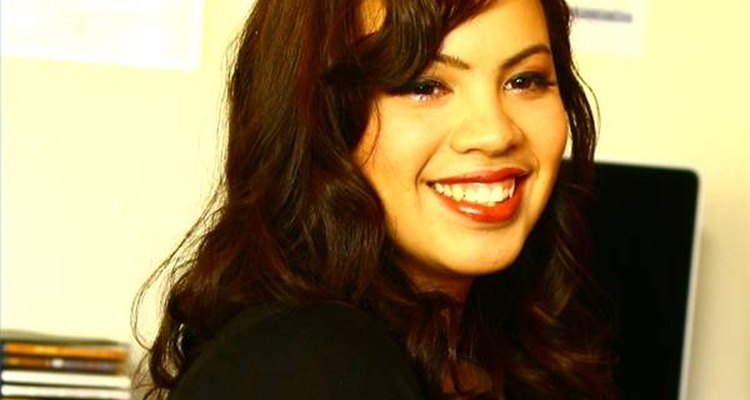 Leprechaun Art & Photography
If you have a busy schedule and using velcro rollers is your preferred method to curl your hair or give it body, be careful when styling wet hair. You may have limited time on your hands yet choose to stay away from hairdryers and thermal hairstyling tools, which speed up the styling process but may damage the hair as well. If this is the case, incorporate the precautions listed here into your hairstyling regimen for optimum results with Velcro rollers.
Wait until hair is damp and not soaking wet before you begin styling it. For impeccable curls, you have to allow your hair to dry completely before taking the Velcro rollers out later; it will be more of a challenge for hair to dry thoroughly if you put the rollers on when your hair is still sopping wet. If you have matters to attend to, you don't have to sit around waiting for your hair to dry. Give your hair time to air dry by taking care of other tasks in the meantime. If you have errands that require you to step out of the house, you may want to set your hair before going to bed and sleep with the rollers on so you don't have to fuss with your hair in the daytime.
Comb your hair to get rid of any tangles or snarls that will prevent your curls from looking smooth and flawless. Use a wide-tooth comb if your hair is long and thick. Squirt a pinch of anti-frizz serum into your palm and rub your hands together briskly to activate the product. Wipe the anti-frizz serum on your hair, running your fingers through your locks to evenly distribute the product. It is especially important to apply anti-frizz serum to damp hair to keep it from frizzing up when it comes into contact with the Velcro, which is notorious for creating static.
Take a fine section of hair no wider than the Velcro roller you will be using to curl it with. If you make a habit of using Velcro rollers on damp hair, invest in rollers that are covered entirely with Velcro instead of those that are merely lined with Velcro on certain spots--such as on either end of the rod--as these won't adhere to hair as securely, especially when the strands are damp. Position the roller underneath the end of the section of hair and roll upward, until the roller is resting snugly against your scalp (see Resources for a video).
Repeat Step 3 for your entire head of hair. You may find damp hair more challenging to roll on Velcro curlers, so remember to keep each section very fine as you roll away.
Allow your hair to dry, which may very well take over an hour or even two for those with thick hair. If you have time, take the rollers out at the last possible moment. Mist hair with hairspray before taking any rollers out. Do not pull the rollers out of your hair, as the Velcro will tear at your strands and make your hair tangled and frizzy. Instead, unroll the curlers patiently for a neat and polished hairstyle. Use your fingers to comb and style your hair. Do not use a brush, as this will break down the flawless shape of your curls.
Writer Bio
Lea WhiteFeather writes to share her colorful experiences with all who can benefit. She enjoys traveling as well, and has worked and resided in New York, Los Angeles, the San Francisco Bay Area and the Philippines, where she received her undergraduate education in art history.
Photo Credits
Leprechaun Art & Photography