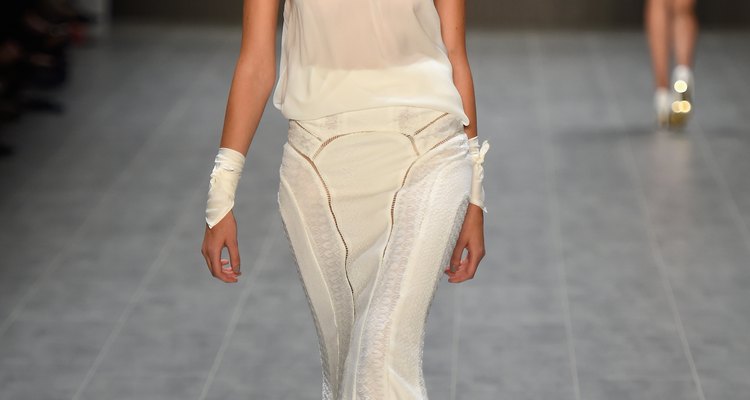 Frazer Harrison/Getty Images Entertainment/Getty Images
Bandanas are one of the most versatile accessories to keep at your dressing table. They conceal a bad hair day and protect freshly washed hair from the elements. Patterned bandanas are flattering when tied pirate style, as they allow the print to shine and complement your outfit. Don a pirate bandana for a day in the wind or rock a Captain Jack Sparrow look at your next costume party.
Brush your hair, directing it away from your forehead. Choose a center part or brush your hair over your crown to prevent it from being pushed into your eyes by the scarf.
Hold the scarf lengthwise. Choose a scarf that is rectangular and at least 10-inches long to provide a tail end that stands out even after it has been tied.
Position the longest side of the scarf directly over the front of your hairline. Pull the end pieces back and rotate the scarf so that they sit directly over your left ear.
Fold the left-end piece over the right and wrap it under. Pull both ends tightly and repeat one more time to form a knot.
Position the knotted portion of the scarf over your left ear so that it's slightly off-center. Adjust your hair as desired. Pull your hair over your ears for a casual look or leave it tucked behind your ears. Let the scarf keep your hair off of your face as an alternative to tying it up.
References
Writer Bio
Celeigh O'Neil has been writing professionally since 2008. She has a Bachelor of fine arts from the University of Ottawa, as well as degrees in fashion illustration/design, digital arts and certification in hair and makeup artistry. O'Neil was a frequent contributor to Toronto's "Dialog" newspaper and has worked as an instructional writer, creating lessons in fashion, art and English for students of all ages.
Photo Credits
Frazer Harrison/Getty Images Entertainment/Getty Images