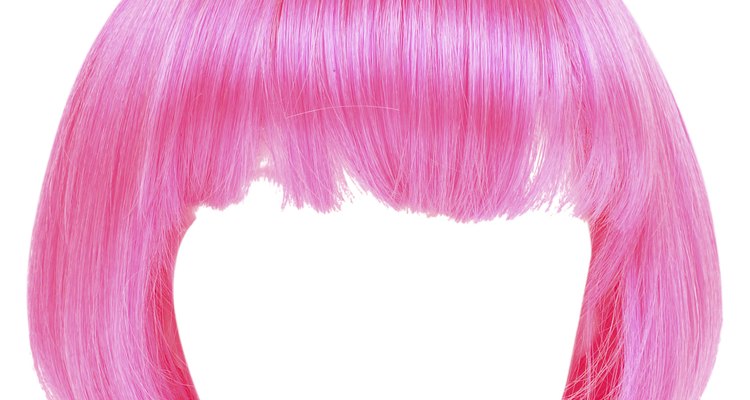 Hemera Technologies/PhotoObjects.net/Getty Images
Wigs are versatile and come in as many styles and colors as natural hair. While wigs are ready to go right out of the box, taking the steps to prep and style your hair piece will heighten its aesthetics and give it a tailored fit to your head and face. If a wig has a great style but looks or feels too thick, thinning it is an option to provide a sleeker look and a more natural appearance.
Put the wig on and look at yourself in the mirror. Determine where you want to thin the hair and make a mental note of how you want the wig to appear. This helps guide your work as you begin.
Create a part in your hairpiece to isolate the area of the wig you want to work on. Put the front tooth of the comb or precision tip against your scalp and then move the comb from front to back to part the hair. Place a clip on hair you are not focused on to secure it while you work.
Hold a section of hair between your fingers and then squeeze the thinning shears on that section. Use the shears as close to the root as possible to capture full strands. Continue to hold the section of hair and put the shears down.
Comb through the section of hair you hold in your hands to remove the excess hair. The comb captures a small amount of hair set free by the thinning shears.
Repeat Steps 2-4 until all the sections of your hairpiece you want to thin have been completed. Comb through your hair a final time and style as necessary.
References
Writer Bio
Iam Jaebi has been writing since 2000. His short story, "The Alchemist," reached over 250,000 readers and his work has appeared online in Thaumotrope and Nanoism. His novel, "The Guardians," was released in 2010 by Imagenat Entertainment. Jaebi is also a business writer specializing in company naming, concept designs and technical writing. He graduated from Syracuse University with a Bachelor of Science in computer engineering.
Photo Credits
Hemera Technologies/PhotoObjects.net/Getty Images