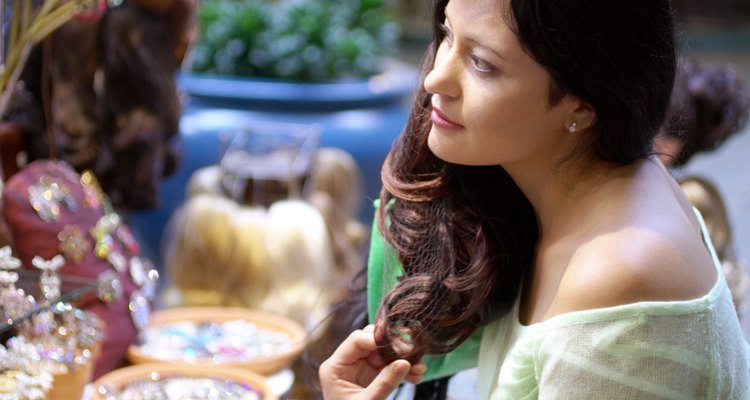 Creatas/Creatas/Getty Images
Flaunting a full, fashionable head of hair isn't always about working what nature gave you. Synthetic wigs won't last as long as human-hair wigs, but you'll never have to waste much of your morning routine on shampooing and styling. Suiting an on-the-go lifestyle to a tee, synthetic fibers fare best with only an occasional wash and will hold your favorite permanent style with minimal touch ups -- so long as properly stored.
Wig Wash-and-Go
Step 1
Brush the wig with a wig brush from tips to crown to remove any tangles. For curly wigs, detangle hair with your fingers only.
Step 2
Turn the wig inside-out. Pour a small drop of mild shampoo inside the crown. Disperse several more drops of shampoo evenly throughout the wig.
Step 3
Run cool water over the wig, and gently massage the shampoo into suds with your fingers.
Step 4
Rinse the wig under cool water. To prevent tangles, hold the wig so that the water runs in the same direction as the hair.
Step 5
Towel-dry the wig and drape it over a clothing rack to dry.
Step 6
Spritz the wig with a spray-on conditioner and allow it to dry fully.
Style and Store
Step 1
Separate any tangles in a dry wig with a metal pick, combing lightly from tips to crown.
Step 2
To neaten a curly or wavy set style, move any wayward strands into place with your fingers.
Step 3
Neaten a straight wig with a wig brush, running the brush gently over the hair tips, then the midsection, then the crown.
Step 4
Store the wig on a foam head or wig block, or place it gently inside a wig net so that the hair does not become frizzy.
References
Milady Standard Cosmetology Textbook 2012, 1st Edition; Milady
The World of Wigs, Weaves and Extensions; Toni Love
Resources
Tips
Wash a synthetic wig once every two weeks if worn daily, or once every 14 wears. More frequent washing may be necessary if styling products like hairspray are commonly applied.
Warnings
Avoid applying heat to a synthetic wig unless the manufacturer's tag states otherwise; Synthetic wigs can melt or frizz when subjected to too much heat.
Never wash any wig with harsh shampoos such as those intended for dandruff treatment.
Do not brush a wet wig as it can damage the fibers and shorten the life of the wig.
Writer Bio
A writer with a Bachelor of Science in English and secondary education, but also an interest in all things beautiful, Melissa J. Bell has handed out beauty and fashion advice since she could talk -- and for the last six years, write for online publications like Daily Glow and SheBudgets.
Photo Credits
Creatas/Creatas/Getty Images