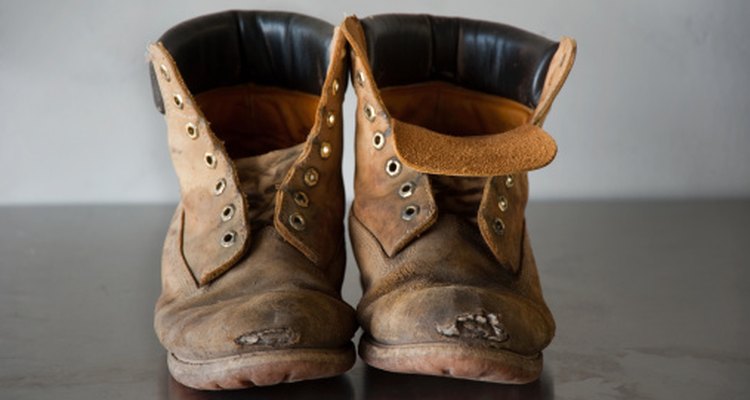 Hilary Brodey/Photodisc/Getty Images
The Red Wing Shoe Company has been making durable footwear for more than 100 years. Its leather footwear line includes work boots, work shoes and motorcycle boots. These shoes are found all over the world, withstanding a variety of conditions. Understanding the different types of leather and the different requirements for its care can extend the life of the leather.
Caring for Waterproof Leather
Clean the leather using warm water and a stiff shoe brush to scuff away any dirt or mud.
Condition using seal paste. Apply using a soft brush to ensure all cracks and seams are treated. Let penetrate overnight in a warm location, then wipe dry.
Protect by spraying leather protector. This keeps dirt, water, and salt from getting into the leather and makes it easier to clean.
Caring for Suede
Clean using a suede cleaner bar. Follow up by scuffing with a stiff bristle brush to reengage the nap. A 120 grit sandpaper can also be used to loosen the nap when the suede appears shiny.
Condition using silicone. Be sure to test an area first, as silicone may discolor the suede.
Protect by applying leather protector.
Caring for Other Leather
Clean using leather cleaner after wiping the surface with a damp cloth.
Condition oil-tanned leather with boot oil or mink oil. Both products weatherproof and condition the leather, but mink oil is safe to use on any type of non-suede leather, including waterproof. Condition dry-tanned leather with silicone.
Apply leather protector spray to the shoe.
References
Writer Bio
Erin Legg has been writing professionally since 2004. Her research and academic writing was featured in the award-winning anthology "The Encyclopedia of Saskatchewan." Legg earned a Bachelor of Arts in political science from the University of Saskatchewan.
Photo Credits
Hilary Brodey/Photodisc/Getty Images