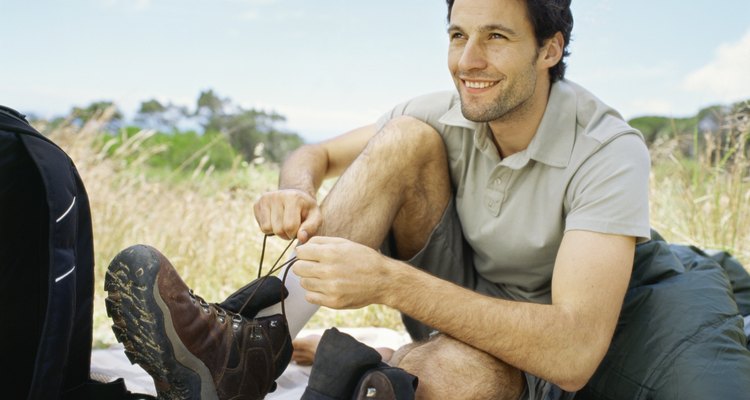 Stockbyte/Stockbyte/Getty Images
Whether you walk to work or hike the trail in your leather shoes, it's important to keep the soles clean. Stuck-on debris can wear down or stain the soles, while regular cleaning keeps your shoes looking good and lasting longer. You don't need to pay to have your shoes professionally cleaned. Instead, do it yourself with just a few inexpensive supplies.
Step 1
Hold a shoe with the sole up.
Step 2
Scrub the sole gently with a dry stiff-bristle leather brush. If you don't have a leather brush, use a toothbrush instead. Brush away dried mud, grass and other caked-on debris.
Step 3
Dampen a cloth with cool water and use it to scrub the sole. Hold the sole under cool running water if it has ridges that you can't easily clean with the cloth. Keep it in the running water until all of the dirt and debris is knocked loose.
Step 4
Sprinkle a bit of baking soda over the sole if it's stained. Rub the baking soda into the sole with a damp towel or non-abrasive sponge, then rinse. Do not let baking soda touch the leather upper of the shoe.
Step 5
Rub the sole with a damp melamine-foam eraser to get rid of stubborn black marks and other stains.
Step 6
Dry the sole well with a clean towel, then clean the other shoe sole using the same process.
References
Resources
Tips
To shield your soles from wear and tear, apply rubber sole protectors. Sole protectors are also slip-resistant and water-resistant.
Writer Bio
Melissa King began writing in 2001. She spent three years writing for her local newspaper, "The Colt," writing editorials, news stories, product reviews and entertainment pieces. She is also the owner and operator of Howbert Freelance Writing. King holds an Associate of Arts in communications from Tarrant County College.
Photo Credits
Stockbyte/Stockbyte/Getty Images