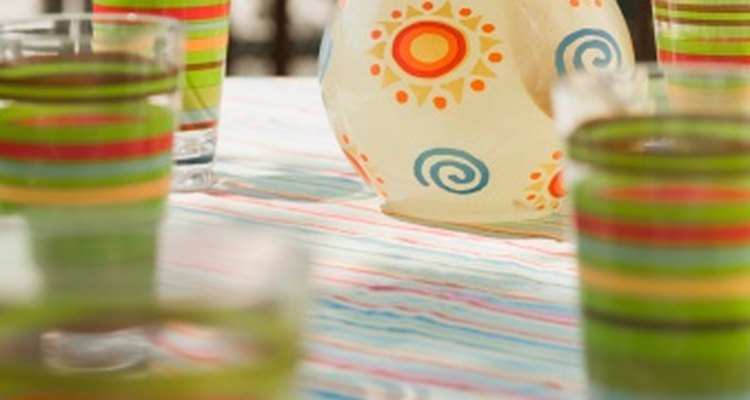 Jupiterimages/Comstock/Getty Images
Gather the gang for an enjoyable midday meal. When you serve a luncheon, chances are it's an informal meal with good friends. This offers the freedom to break out funky and colorful dishes, bright cloth napkins and eye-catching glassware. Add a pretty centerpiece in the middle of the table, and you'll have a festive and relaxing table for lunch that will encourage lingering and visiting.
Check your supply of plates, placemats, silverware, glasses and napkins. Make sure you have enough of each item for a complete setting for each guest. Mixing and matching napkins, placemats, glasses and even dishes can work well for a casual lunch, so don't worry if everything doesn't match.
Put a placemat at each place setting. Use bright or vivid placemats with prints or dynamic patterns to give your table a fun and casual appearance.
Place a luncheon plate in the center of each placemat. Luncheon plates are an inch or two smaller than dinner plates -- perfect for a lighter and more casual midday meal. Use dishes in bright colors or a solid color taken from the placemats. Use a different dish color for each place setting to create a mix-and-match casual table.
Fold a cloth napkin and lay it immediately to the left of the luncheon plate.
Set a fork immediately to the left of the luncheon plate on the folded napkin. Place the knife immediately to the right of the plate with the blade facing the plate. Place the spoon to the right of the knife.
Place two tall glasses above the knife and spoon -- one for water and one for a cold beverage such as iced tea.
Add a colorful centerpiece of vibrant and bold flowers. Try lilies, gerber daisies or tulips in a low vase for a casual mood.
Place salt and pepper shakers in the center of the table.
References
Writer Bio
Kathryn Hatter is a veteran home-school educator, as well as an accomplished gardener, quilter, crocheter, cook, decorator and digital graphics creator. As a regular contributor to Natural News, many of Hatter's Internet publications focus on natural health and parenting. Hatter has also had publication on home improvement websites such as Redbeacon.
Photo Credits
Jupiterimages/Comstock/Getty Images