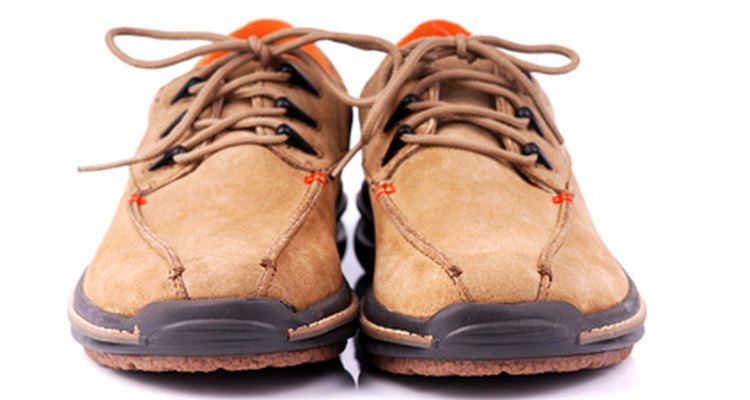 shoe image by sasha from <a href='http://www.fotolia.com'>Fotolia.com</a>
Clarks shoes come in a variety of styles and they are made with the best materials. Your favorite pair of Clarks shoes can be worn down, if you wear them often. When you want to repair your shoes, it may be best to seek professional assistance. Clarks, the official shoe company recommends that you send your footwear to a shop that specially repairs their brand.
Assess your Clarks footwear and see what needs to be repaired. The damage may seem severe, but it could just be dirty or need minor stitching. It is best to look at the entire shoe before investing in a costly repair.
Purchase shoe repair tools from your local shoe repair shop, if you feel you can repair the minor damages yourself. If you can sew, you can stitch a minor tear in a shoe made with fabric of some kind. When it comes to leather and other materials, it may be best to seek professional help.
Contact your nearest shoe repair shop and inquire about repairing your Clarks shoes. Clarks are made with standard materials, such as cotton, leather and rubber, so it should be easy to find a repair shop that can fix your shoes. When inquiring with local shoe repair shops, get an estimate before sending your shoes for repair; you can shop around and determine the best price.
Contact Clarks when your are in need of shoe repair. Clarks can recommend an affiliate company called Resole Center, that specifically caters to Clarks shoes. You will need to contact Clarks and tell them what style of shoe you own because the Resole Center only repairs certain Clarks shoe styles. When speaking with Clarks, they should refer you to a Resole Center in your area.
Visit your nearest Clarks store and inquire about shoe repairs. It may be possible for the employees to help by determining the damage and by referring you to a repair shop. An employee may have inside information about another reputable shoe repair shop.
Writer Bio
Based in New Jersey, Ashley Leonard has been writing professionally since 2007. Her articles have appeared on rsportscars.com and various other websites. Leonard holds a Bachelor of Arts in communications from Marymount Manhattan College.
Photo Credits