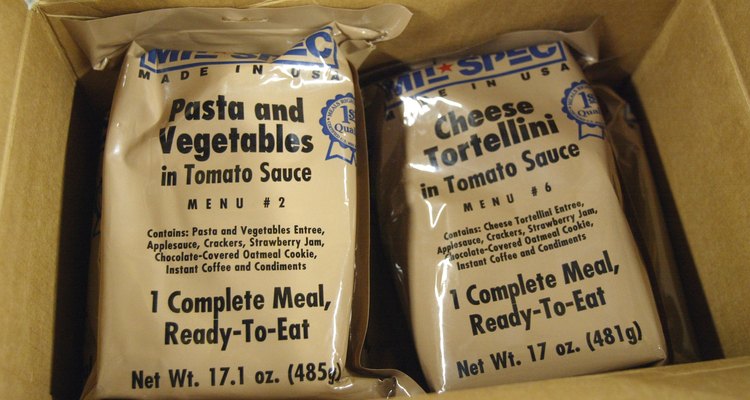 Tim Boyle/Getty Images News/Getty Images
The date stamped on the Ameriqual APack Ready Meals, or MREs, is the production date for that specific product. Ameriqual does not place expiration dates on its MREs because variances in storage conditions can change the shelf life of the product. Generally, the closer to 50 degrees Fahrenheit that the product is stored, the longer it will last. The date code will consist of four numbers that indicate the day and the year on which the product was made.
Look on the package for a four-digit number. This number will be stamped somewhere on the packaging.
Look at the first number. This number indicates the year that the MRE was produced. For example, if the first number is 7, the MRE was produced in 2007.
Look at the last three digits collectively. These numbers will tell you the day of the year that the MRE was produced. For example, if the last three digits are 109, the MRE was produced on the 109th day of the year, which, in a non-leap year, is April 19.
References
Writer Bio
Tim Altork is an experienced writer and editor whose work has appeared in the "Randolph Leader," the Beacon newspapers and the "Sunday Paper." He also writes and edits online for Bleacherreport.com. His expertise is in sports, but he has written on all topics, from politics to social events. Altork received a bachelor's degree in political science from Valdosta St. University.
Photo Credits
Tim Boyle/Getty Images News/Getty Images