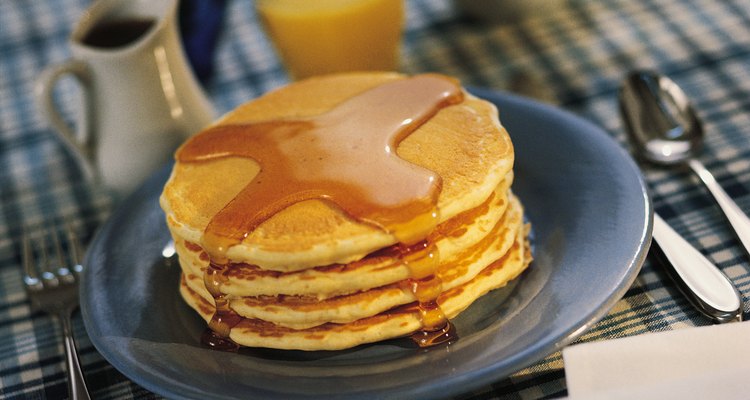 Comstock/Comstock/Getty Images
Smothered with butter and maple syrup, pancakes are a treat cooked in many breakfast restaurants and specialized pancake houses. A stack of golden brown, fluffy pancakes may look like a difficult thing to reproduce, but with a little practice they are easy. Finding a good batter recipe and learning the right cooking techniques are key to making a tasty breakfast stack at home.
Pancake Batter
Mix the flour, baking powder, sugar and salt in a large bowl and create a well in the center of the mixture. These are the dry ingredients.
Whisk the large eggs together in a measuring jug and add the milk. Melt the butter in a pan only until it becomes liquid. Add the melted butter to the milk and eggs and whisk them together.
Pour the milk mixture into the well in the middle of the dry ingredients. Using the whisk, stir the dry mixture into the wet. Incorporate the wet into the dry completely, but do not over mix as this will knock out the air. An airy mixture is important to make light, fluffy pancakes. Allow the mixture to rest for 10 to 15 minutes.
Cooking Pancakes
Heat the skillet to a medium-high temperature and melt a small pat of butter.
Ladle 1/4 cup of the pancake mixture into the heated skillet. To get perfectly round pancakes, use a small round skillet.
Flip the pancake over using a large spatula once bubbles have started to rise and burst on the surface.The underside should be a golden brown; if it is too dark the heat may need to be decreased a little. Cook the pancakes for the same length of time on both sides.
References
Tips
Add butter to the skillet as needed to keep the pancakes from sticking.
Use a spatula that is large enough to support most of the pancake, as this prevents them falling apart during flipping.
Nutmeg and cinnamon can be added to the batter to add flavor.
Photo Credits
Comstock/Comstock/Getty Images