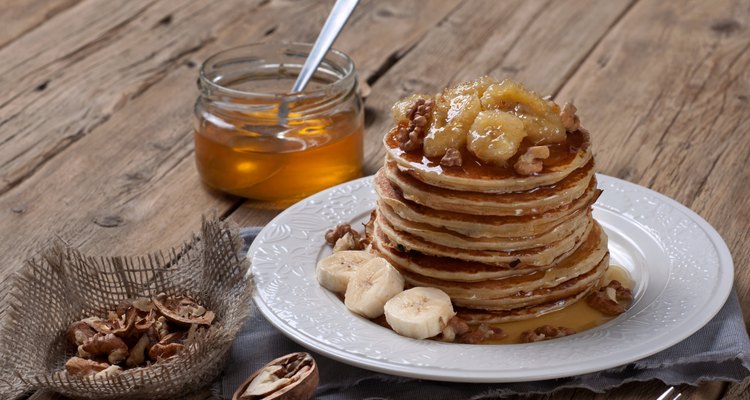 KucherAV/iStock/Getty Images
Although pancakes are not inherently high in sodium, some of the ingredients that are often present in commercially prepared pancake mix contain a lot of sodium. You can read the labels and look for prepackaged pancake mixes that are labeled low-sodium, or you can make your own mix at home.
High-Sodium Ingredients
To make the mix shelf-stable, companies need to add preservatives to your pancakes. Preservatives are mostly sodium-based, so if you are cutting back on your sodium intake, be sure to read the labels on any canned, boxed or frozen foods before you buy them. Other ingredients to look out for are the leavening agents that make your pancakes rise. Regular baking powder has almost 500 mg of sodium per teaspoon. And, of course, most pancake mixes and pancake recipes contain table salt, or sodium chloride.
Substitutions
If you make your own pancake mix based on your favorite pancake recipe, you will already have eliminated the preservatives and you can make low-sodium substitutions for the other problematic ingredients. Purchase low-sodium baking powder and a salt substitute, and you will be able to prepare pancakes with as little as 15 mg of sodium per cake.
Dry Ingredients
Sift together the dry ingredients of your favorite pancake recipe and store them in an airtight container until you are ready to make the pancakes. If you don't already have a favorite pancake recipe, try this combination. Sift 2 1/2 cups of all-purpose flour together with 4 tbsp. of low-sodium baking powder, 1 tsp. of salt substitute and 2 tsp. of cinnamon. When combined with the wet ingredients, this recipe makes about 16 small pancakes.
Wet Ingredients
For the convenience of a "just add water" mix, combine the wet ingredients ahead of time and keep them in an airtight container in your refrigerator. Otherwise, measure the wet ingredients at the time that you are making the pancakes. To your dry ingredients, add 4 tbsp. of canola oil, 2/3 cup of water, 2 cups of milk or nondairy milk substitute, 4 tbsp. of maple syrup and 2 tsp. of vanilla extract.
Preparing the Pancakes
Stir all of the ingredients together until they are barely combined. There will be lumps, but don't try to stir them all out. Pour the pancakes onto a skillet or griddle that has been preheated over medium heat. Cook them until the bubbles on the top have popped, then flip them over and cook for another one to three minutes, or until they are golden brown.
Sodium Content
Prepared with 2 percent milk, the whole pancake recipe contains about 265 mg of sodium, which works out to 16.6 mg per pancake. You can save a few more grams of sodium by substituting soy milk for the 2 percent, which brings the sodium content down to 14 mg per pancake.
References
An A-Z Guide to Food Additives; Deanna Minich; 2010
"Vegan Brunch"; Isa Chandra Moskowitz; 2009
Writer Bio
Chance Woods has been a personal trainer since 2002, specializing in fitness and nutrition. She holds a Bachelor of Science in dietetics.
Photo Credits
KucherAV/iStock/Getty Images