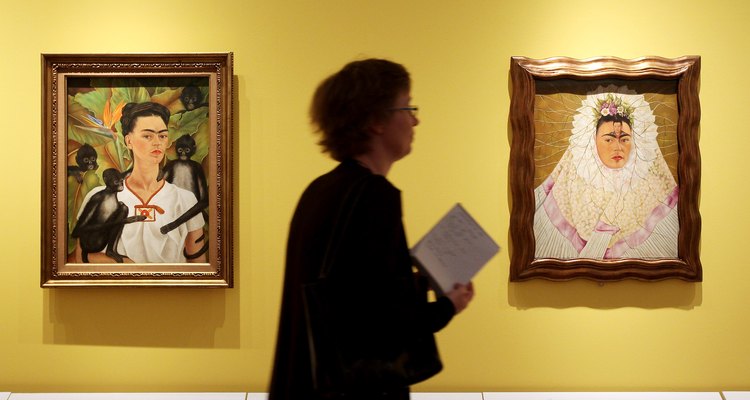 Sean Gallup/Getty Images Entertainment/Getty Images
Frida Kahlo was a Mexican painter of the 1920s and '30s known best for her self-portraits that featured surrealist and folk art touches. Her art reflected her singular style, including the intricately braided, decorated hair that remains synonymous with both the artist and Mexican art. The hairstyle most associated with Kahlo is a colorfully modified version of a milkmaid braid, where the hair is parted down the middle and then piled on top of the head and decorated with ribbons or long strips of fabric and flowers. The style works best on long hair.
Prep hair with a golf ball-sized dollop of mousse or three to four spritzes of texturizing spray from roots to ends.
Part hair down the center from your forehead to the nape of your neck, using the edge of a comb. Brush the hair so that it's very smooth and flat against the head, then secure each half of your hair with an elastic into pigtails behind your ears.
Tie a ribbon around the base of each ponytail. Once attached to your ponytail, the ribbons should be slightly longer than your hair.
Braid the right ponytail into a three-strand braid from base to end. Hold the ribbon with one strand of your braid so that the ribbon is woven into the hair as you braid.
Lift the braided ponytail up and lay it horizontally across your head at the crown. Push bobby pins into the braid, bent side down, to attach the braid to your crown. Spritz your hair with hairspray to hold the hair in place.
Braid the left side, weaving the ribbon into the braid as you go, and place it on top of your head so that the ends of your two braids overlap. Secure in place with bobby pins. Apply hairspray.
Tie the leftover ends of your ribbons into a soft knot or bow. Trim the wire stems of your flowers to about 1 1/2 inches using wire cutters.
Push the stems of your flowers into your braids. Insert the flowers so that they will hide bobby pins or any tufts of hair that are peeking out of your braids. Wrap the wire ends up and over the braided hair to secure them into place.
References
Writer Bio
Lindsey Robinson Sanchez, from Bessemer, Ala., has written for the "Troy Messenger," "The Alabama Baptist" and "The Gainesville Times," where her work was featured on the AP wire. She has a Bachelor of Science in journalism from the University of Florida. She writes style, beauty, fitness, travel and culture.
Photo Credits
Sean Gallup/Getty Images Entertainment/Getty Images