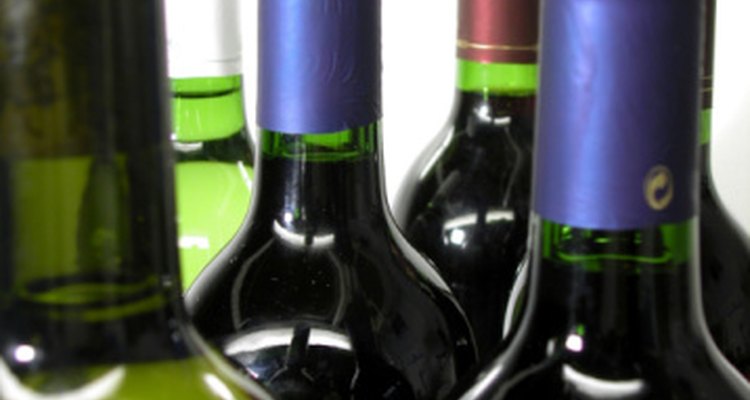 Ablestock.com/AbleStock.com/Getty Images
Celebrate the birthday of a friend who is 21 years old or a wine connoisseur by baking them a cake shaped like a liquor bottle or adapt the design to a wine bottle. The cake shape is also appropriate for a groom's cake at a wedding reception and may be altered to appear as a beer bottle.
Prepare a store-bought cake mix and bake in two 6-inch round pans according to package directions. Repeat the process resulting in five 6-inch round cakes. Cool them completely on a cooling rack before shaping them into the liquor bottle.
Melt 3 tablespoons of butter in a large saucepan over low heat, add one 10-ounce package of fresh marshmallows to the pan and stir until melted completely. Remove the pan from the burner and stir in 6 cups of rice crisp cereal until well coated.
Butter your hands and form the thin neck of a liquor bottle with the rice crisp mixture before it cools. Put the remaining mixture into a buttered glass dish and consume later to prevent waste.
Cut each of the five 6-inch round cakes in half using a sharp knife. Lay each on the cut straight edge and place a layer of butter cream frosting between each half round as you attach one behind the other. Position the rice crisp bottle stem so that it is touching one end of the cake bottle and adhere them together with a dab of buttercream icing.
Carve the end of the cake to appear like a bottle getting smaller toward the bottle stem so that the transition between cake and rice crisp is smooth. Cover the entire cake and rice crisp with buttercream icing.
Knead and roll store-bought fondant in a color that matches the preferred bottle design on a confectioner's sugar-sprinkled work surface to a 1/8-inch thickness and smooth over the cake. Press down over any bumps to make the fondant adhere to the icing and appear smooth.
Remove the excess fondant from the bottom of the bottle cake with a pizza wheel. Use the remaining fondant to cut a rectangular bottle label and press over the center of the wide bottle portion. Decorate the label according to the bottle you are replicating using a piping bag and colored frosting.
References
Resources
Photo Credits
Ablestock.com/AbleStock.com/Getty Images