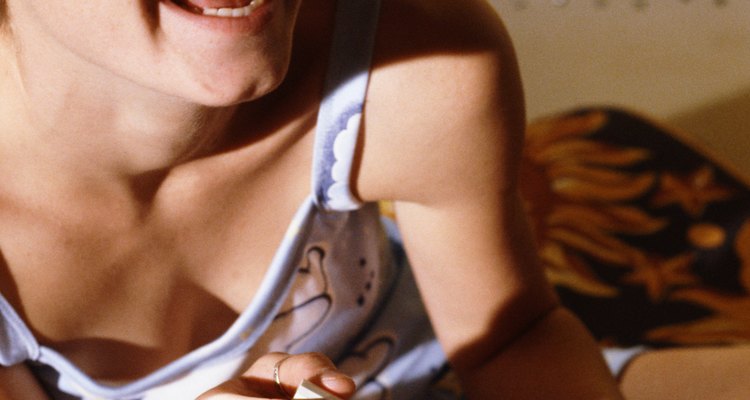 Thinkstock Images/Comstock/Getty Images
Spa days reduce stress and provide precious pampering time, and are a treat for teenage girls. Professional spa treatments can be incredibly expensive, but creating your own spa day at home can be completed with a few simple supplies. Prepare the area and complete the spa treatments in order to maximize the amount of fun and relaxation for the teenagers.
Set up the spa area in a room or area that is quiet and clean. Light candles, play some relaxing music, and have indulgent snacks such as raw fruits and chocolates available. To add to the experience, prepare easy-to-eat finger foods like pizza rolls. Set up a pitcher of ice water with lemon slices or put a bottle of sparkling cider on ice.
Begin the first spa treatment by cutting all finger and toe nails with clippers, following up with a few swipes of a nail file. Paint the nails carefully, using the nail polish of choice and allow the polish to dry thoroughly. Add a clear top coat for chip protection of the nails.
Create a fun, simple homemade facial by combining a banana, an avocado and 3 tbsp. plain yogurt in a small bowl and mashing together with a fork. Spread the mixture over the skin on the face and neck and allow it to remain for 20 minutes. Pass the time by reading a magazine or book, before rinsing thoroughly with warm water to remove the facial.
Rub a scrub all over the body, including the arms, legs and feet. This will remove excess dead skin cells and give the skin a healthy glow and cause it to feel soft. Rinse the scrub from your skin with a hot shower. Put on a terrycloth bathrobe afterward.
Massage aromatherapy lotion into your hands and feet, rubbing with your finger pads in small, circular motions to increase blood flow and help you relax.
Writer Bio
Amy Lukavics is an Arizona resident who has been a professional writer since 2009. She contributes to the blog Hello, Moon and her writing interests include cooking, crafts, pregnancy, health and beauty.
Photo Credits
Thinkstock Images/Comstock/Getty Images