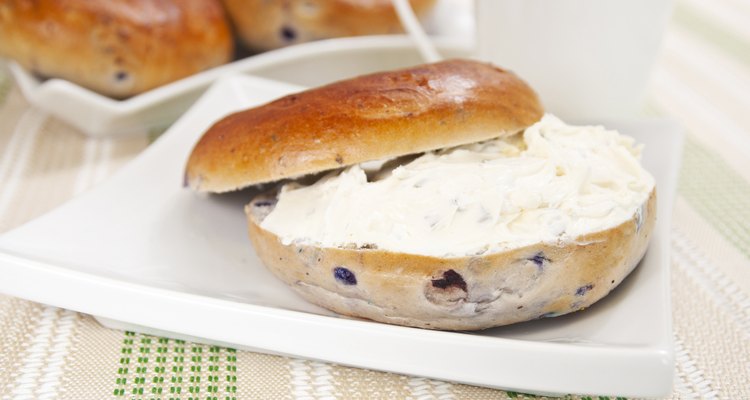 jerry2313/iStock/Getty Images
A blueberry bagel with cream cheese imparts a fruity, creamy taste. The blueberries in the bagel do contribute a few more calories to this meal, but it also helps you incorporate fruit into your diet.
Calories
One 4.3-oz. blueberry bagel with 1 tbsp. of cream cheese contains 365 to 374 calories. Go Ask Alice! -- Columbia University's Health Q&A Service -- recommends starting your day with a 350 to 500 calories, which makes this a good choice for breakfast.
Nutrients
A 4.3-oz. bagel with 1 tbsp. of cream cheese provides you with 67.3 to 73.8 g of carbohydrates, 10.8 to 12.1 g of protein and 4.6 to 5 g of fat. These macronutrients make up the calories in a bagel and give you the energy you need to make it through the day.
Considerations
A blueberry bagel with cream cheese contains a high amount of sodium -- 520 to 572 mg. The American Heart Association recommends limiting your sodium intake to no more than 1,500 mg per day to avoid health problems such as high blood pressure.
References
Writer Bio
Nicki Wolf has been writing health and human interest articles since 1986. Her work has been published at various cooking and nutrition websites. Wolf has an extensive background in medical/nutrition writing and online content development in the nonprofit arena. She graduated with a Bachelor of Arts in English from Temple University.
Photo Credits
jerry2313/iStock/Getty Images