Ah, to travel to Europe! The home of Mozart, Van Gogh and Prince Harry. The place where some folks drive on the left, others live in houses older than the United States government and the food is out of this world. When your taste buds have a hankering for cross-Atlantic travel, but your wallet is forcing you to stay put, these culinary dishes have you covered. Put away that backpack, re-shelve that guidebook, dust off your cutting boards and don your apron. From Italy to Norway, England to Austria, and everywhere in between, you can tour the continent from the comfort of your own kitchen — no Eurail pass required!
Make Fresh Tomato Sauce Like an Italian Grandmother
Begin your culinary tour through Europe in Italy, with this salsa di pomodoro made from fresh tomatoes. Mangia bene and indulge your senses with the sharp aroma of fresh garlic, savory basil and tangy red tomatoes as you spoon sauce over your favorite pasta. If you close you're eyes, you can almost see the sun setting over the Sicilian coast, or hear the breeze blowing through Tuscan vineyards.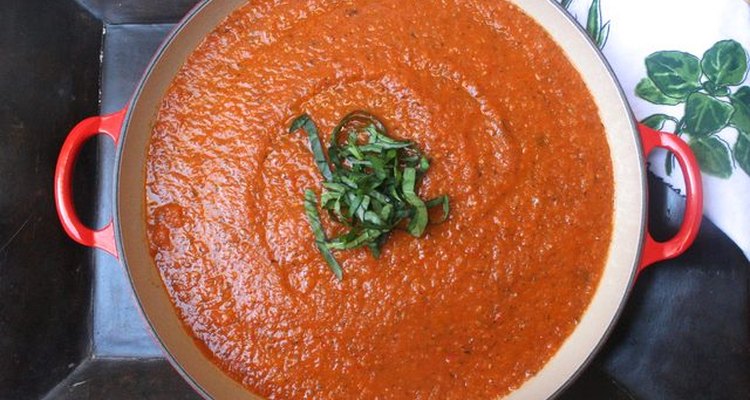 Picture the Parthenon While Snacking on Greek Yogurt
There are so many healthy benefits to a Mediterranean diet, and one of the staples of the region is thick and creamy Greek-style yogurt. Make it yourself with this recipe and serve it tzatziki style with chopped olives, cucumbers and lemon for a savory flavor.
Indulge Your Chocolate Cravings with a Spin on a Viennese Classic
Quite possibly the best part of traveling to Austria is the afternoon custom of hitting the local kaffeehaus for some kaffee und kuchen (coffee and cake). Embrace this important cultural tradition with heavenly chocolate lava cake. Top with some apricot jam and serve with piping hot coffee, and you'll have your own version of sacher torte that will attract friends and family from all over.
Charity Curley Mathews, founder of Foodlets.com
Fill Your Belly With the Goodness of Goulash
Tourists flock to the Czech Republic for the medieval architecture, but stay for the beef goulash. Bring the taste of Prague to your kitchen, with a twist, when you serve up a warm pot of beef stew. The rich flavor of this hearty stew staved off the chill from many a drafty castle, and after the first bite, you'll see why!
Kate Van Vleck/Demand Media
Bring the Biergarten Home With Buttery Pretzels
Germany has some pretty major exports, such as cars and beer, but for some reason the idea of the biergarten — the lovely outdoor space where friends gather to drink beer and eat salty, soft pretzels — never became commonplace in the U.S. By baking these beer-infused buttery pretzels, you can bring the feel of the biergarten to your backyard when you serve them hot alongside a cold hefeweizen.
Embrace the Arctic Circle with Smoked Salmon
Imagine the smell of the salty sea air, the sound of seagulls calling over the fjord, and take a bite of this flaky homemade Røkt laks (or smoked salmon). Serve it with scrambled eggs or on an open-faced sandwich with sliced cucumbers and dill for a traditional Norwegian lunch.
Sarah Vantassel/Demand Media
Sip on a Scottish-Style Cocktail
Nothing puts hair on your chest like a glass of single-malt, but if you want to hear the call of the highlands without sacrificing your smooth skin, try an old fashioned made with Scotch whisky. After a glass or two, you'll be ready to pull out the bagpipes, hike up your kilt and dance a reel with the best of them.
Treat Yourself to Irish Cream Pound Cake
The Emerald Isle is famous for its green rolling hills and warm-hearted people. Curl up in your coziest Aran knit sweater and bring some of the welcoming quality of Ireland to your home with this recipe for Irish cream pound cake. Slice it up and serve with a hot cup of tea and you can trust there won't be a crumb left!
Jennifer Farley - SavorySimple.net
Savor the Sea With Fried Fish and Chips
No fast food can quite compare to British fish and chips. Make it at home with this beer-battered fish recipe, but be sure to serve it wrapped in newspaper with a side of hot chips for the full English coastal feel.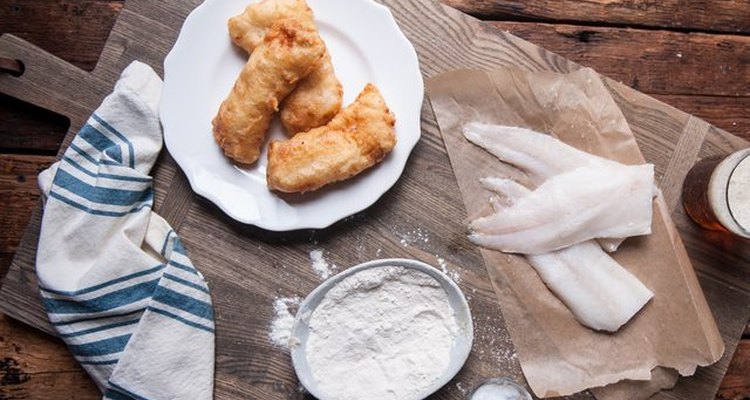 Blow Breakfast Out of the Water With Belgian Waffles
Classic styles of Belgian waffles, known as Gaufres de Bruxelles or Liege waffles, are sold all over Belgium as a warm and sugary snack. Make your waffles like a Brussels street vendor with this recipe, and powder them with a heavy dusting of confectioners sugar before finishing 'em off with fruit.
Put Away Your Passport and Make Paella
Skip the Spanish siesta and wake up your taste buds with seafood paella. Dinner will be full of flavor and color with this one-skillet dish, and you will have plenty to share. Pour the wine, serve some tapas and get cooking!
Fall in Love with Chocolate Croissants
Finish your European taste tour with these chocolate croissants. The French really do know best when it comes to flavor, and whoever decided to combine flaky pastry with gooey melted chocolate was un génie. Each delicious bite will evoke images of the Eiffel tower and the reflection of the city lights on the Seine.
Writer Bio
Reyna Abraham has a passion for all things writing and DIY. She has been published in Downtown Magazine NYC and can also be found on the Dogpound Blog. Her background is in English literature and language, as well as culinary art and nutrition.