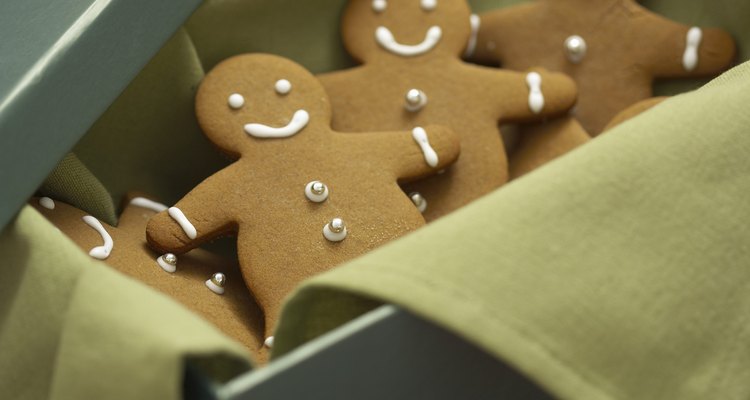 Jupiterimages/Photos.com/Getty Images
Dress up a table at your wedding reception devoted to cookies. Sure, most people love wedding cake, but everyone loves a tasty cookie. Surprise guests with a variety of your favorite cookies that they can enjoy at the reception or as a take-home gift. Cookie tables give guests a tasty alternative to the cake. Whether you and your family bake the cookies yourself, or you order them from a bakery, the cookie table will be a hit with your guests.
Set up a table near the cake table. Typically the cake table is only large enough to hold the cake and possibly the groom's cake. The cookie table should be completely separate, so no one accidentally hits or touches the cake.
Spread a tablecloth that coordinates with the rest of the decor over the table. Additionally, attach any front valance or decorations that match the rest of the tables in the room. The cookie table should blend as much as possible with the rest of the decorations.
Bend a 3-by-5-inch blank note card in half vertically. This will cause the note card to stand alone. Write the name of the cookie on the front of the note card. Each variety of cookie will have a note card that states the name of the cookie. Help those with food allergies by listing major ingredients on the back of the card.
Gather your display materials to do a practice arrangement on the table. Depending on how many cookies you have, you can set them all on trays or give visual interest by stacking them in clear standing containers. If you choose to place them in clear, canister-type displays, then set those along the back of the table with the note cards in front.
Place covered trays along the front of the table with the note cards in front. Arrange the trays and canisters on the table until you are happy with the look of the table. Make a drawing of the table with a pen and paper so you know where the cookies go on the wedding day.
Mark an area to place small plates and napkins at the end of the table. If you have an abundance of cookies, then consider placing small take-home boxes at the end of the table, so guests can grab their favorite cookies on their way out the door.
Wrap ribbon around the top of the tall canisters that coordinates with the colors of the wedding. Additionally, wrap a ribbon around the handles of the thongs to grab the cookies.
Place tall vases of flowers on either end of the table to add visual interest. The flowers should coordinate with the rest of flowers and decorations.
References
Writer Bio
Tabitha Harwell has been writing since 2008, with articles appearing in local publications and various websites. Her background includes a career in the fashion and beauty industry. Harwell holds a Bachelor of Arts in public relations.
Photo Credits
Jupiterimages/Photos.com/Getty Images