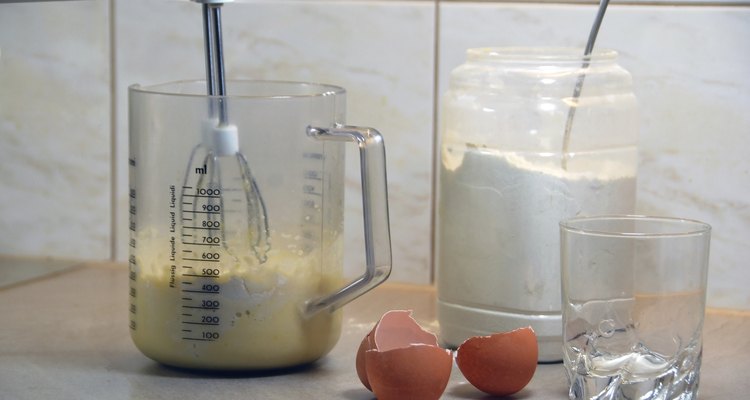 maljalen/iStock/Getty Images
In 1913, Dr. Jesse Littleton asked his wife to bake a cake in the sawed-off bottom of a glass battery jar as a demonstration to his colleagues at the Corning Glass Works that you could cook in glass. Three years later, Corning introduced the first line of Pyrex baking ovenware. You can still bake in a Pyrex bowl today in order to make festive cakes like the popular princess cake, where the inverted bowl shape serves as the princess' skirt, or a Noah's ark cake, where the bowl shape is used to create a boat.
Preheat the oven to 350 degrees Fahrenheit.
Spray or smear the inside of the Pyrex bowl with oil or butter until it is thoroughly covered, then sprinkle the greased surface with flour or cocoa powder, turning and tapping the bowl until it is fully coated.
Line the bottom of the bowl with parchment of waxed paper. This will help the cake emerge easily. However, ensure that the circle of paper only covers the bowl's bottom since it will wrinkle if it covers the sides, leaving marks in your baked cake.
Prepare the cake batter of your choice, either from a mix or recipe.
Pour the batter into the bowl gently, taking care not to displace the parchment paper lining at the bottom.
Bake the cake in the middle of the oven for 45 to 50 minutes or until the sides of the cake start to pull away from the sides of the bowl and a knife or toothpick inserted in the center comes out clean.
Cool the cake for about 20 minutes in the bowl before turning it out onto a wire rack to finish cooling. Wait until the cake is completely cool before icing or carving it for specialty cake shapes.
References
"Panati's Extraordinary Origins of Everyday Things"; Charles Panati; 1989
"Complete Party Planner"; Annabel Karmel; 2006
"Morah, Morah, Teach Me Torah"; Nechama Retting and Tobey Greenberg; 2009
Tips
Use a very sharp, serrated knife to carve the cake into shapes in order to minimize crumbling.
Apply a thin layer of frosting as a "crumb coat" before applying the bulk of the frosting in order to achieve an attractive, crumb-free frosting on your cake.
Writer Bio
Chance Woods has been a personal trainer since 2002, specializing in fitness and nutrition. She holds a Bachelor of Science in dietetics.
Photo Credits
maljalen/iStock/Getty Images