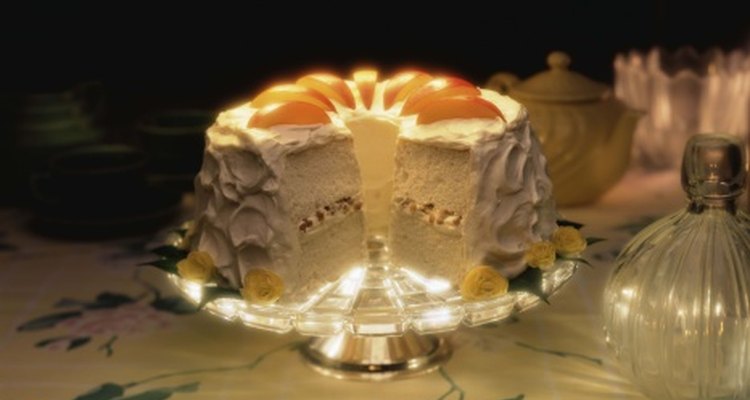 Jupiterimages/Comstock/Getty Images
Angel food cake is a foam cake made from a batter that contains no oil. When done correctly, the end result is a fluffy, light, delicately flavored marvel. But get one step wrong and you end up with either a dried-out sponge or a gooey mess. De-panning angel food cake -- traditionally made in a tube pan -- is not difficult. In fact, if you use a greased pan, you run the risk of the cake falling out of the pan and collapsing in on itself. Angel food cakes must be cooked through and cooled thoroughly to come out of the pan perfectly.
Follow the directions on the cake mix or the recipe exactly, paying attention to the proportions. Add too much sugar and the cake may be too moist to hold its shape; too little and it won't rise all the way. Both conditions will make it hard to get the cake out of the pan in one piece.
Set a timer to make certain that the angel food cake bakes for the proper time. Both undercooking and overcooking will make it difficult to get the cake out of the pan.
Test the cake for doneness by inserting a wooden skewer between the center of the angel food cake and the edge of the cake pan. The skewer should come back out completely clean and dry.
Turn the angel food cake upside down on a cooling rack and leave it there for at least 30 minutes to cool completely.
Turn the cake pan right side up and gently run a butter knife around the edges of the cake between it and the pan.
Invert the cake pan over a plate and the angel food cake should slide out easily, retaining its shape.
References
Resources
Tips
Check your oven's temperature with an oven thermometer to make sure an angel food cake is baking at the proper level of heat.
Warnings
Never use a nonstick pan or nonstick cooking spray when baking angel food cake.
Writer Bio
Brynne Chandler raised three children alone while travelling, remodeling old homes, taking classes at the Unioversity of California Northridge and enjoying a successful career writing TV Animation. Her passions include cooking, tinkering, decorating and muscle cars. Brynne has been writing fun and informative non-fiction articles for almost a decade. She is hard at work on her first cookbook, which combines healthy eating with science-based natural remedies.
Photo Credits
Jupiterimages/Comstock/Getty Images