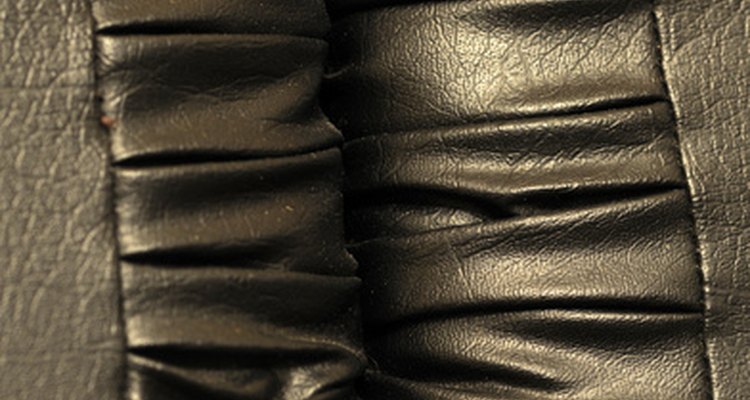 leather image by Zbigniew Nowak from <a href='http://www.fotolia.com'>Fotolia.com</a>
No matter what type of full-grain leather garments and products you own, you need to care for those items properly. In order to retain its beauty, durability and luster full-grain leather must be cleaned and cared for carefully. Without the right care, it will quickly begin to show its age. Taking the time to clean your full-grain leather goods properly will make all the difference in the world.
Clean spills from on full-grain leather garments as soon as possible. To remove spilled liquid, simply use a damp soft cloth and carefully wipe the liquid away. Always allow full-grain leather to dry naturally.
Remove road salt stains from full-grain leather jackets and pants by blotting the stained area with a damp cloth to loosen the salt, then wiping the stains away with a soft cloth. Depending on the amount of staining, you might need to repeat this process several times.
Dip a soft cloth in a cup of warm water to dampen it, then dip the cloth into a can of saddle soap or leather cleaner. Make sure that the cleaner you use is designed for full-grain leather products.
Rub the cleaner or saddle soap into the full-grain leather thoroughly to remove set in dirt and soften the hide. Allow the leather cleaner or saddle soap to dry, then use a soft dry cloth to wipe away the excess.
Use a toothbrush to clean any hard to reach areas on the full-grain leather. Dip an old toothbrush in some warm water, then in the leather cleaner or saddle soap. Scrub the affected areas gently to remove any set in dirt. Allow the leather cleaner or saddle soap to dry, then wipe it off with a soft cloth.
Apply a quality leather conditioner and protectant to the leather items after a thorough cleaning. This will help to protect the hide from water, dirt and other damage. Always use a conditioner that is designed specifically for full-grain leather.
References
Writer Bio
Based in Pennsylvania, Bonnie Conrad has been working as a professional freelance writer since 2003. Her work can be seen on Credit Factor, Constant Content and a number of other websites. Conrad also works full-time as a computer technician and loves to write about a number of technician topics. She studied computer technology and business administration at Harrisburg Area Community College.
Photo Credits