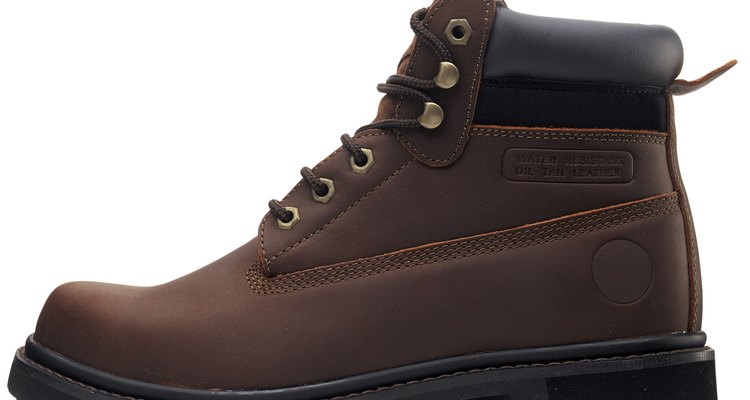 Stockbyte/Stockbyte/Getty Images
Whether you are working with a well worn pair of cowboy boots or a pair of stylish thigh high boots it is important to care for the leather properly. Taking the time to condition the leather when you first bring those boots home will help them last longer and be more durable. It is also important to keep an eye out for cracks and dry spots on the leather - addressing problems quickly will prevent those cracks from getting worse.
Clean your boots thoroughly with a quality saddle soap. Mix the saddle soap with a little bit of water until it is pliable and easy to apply. Then using a clean cloth carefully work the saddle soap into the leather of the boots. Pay special attention to any spots where the leather is dry or cracked. Work the saddle soap into the leather, allow it to soak in, and then wipe away the excess with a clean dry cloth.
Use a wax-based shoe polish to address any cracks or folds in the leather. Polish the entire surface of each boot, but apply extra shoe polish to those cracks. Using the polish to fill in the cracks will help to restore the softness and suppleness of the leather. Allow the shoe polish to soak into the cracks on the boots, and then wipe away the excess using a clean cloth.
Allow the shoe polish to dry completely, and then thoroughly wipe off the boots. Make sure that all excess polish has been removed. Finally, work the mink oil into the leather slowly using a damp cloth, and allow it to soak into the surface of the boots. Mink oil will help to make the boots more water resistant, and this will help prevent new cracks from developing.
References
Writer Bio
Based in Pennsylvania, Bonnie Conrad has been working as a professional freelance writer since 2003. Her work can be seen on Credit Factor, Constant Content and a number of other websites. Conrad also works full-time as a computer technician and loves to write about a number of technician topics. She studied computer technology and business administration at Harrisburg Area Community College.
Photo Credits
Stockbyte/Stockbyte/Getty Images