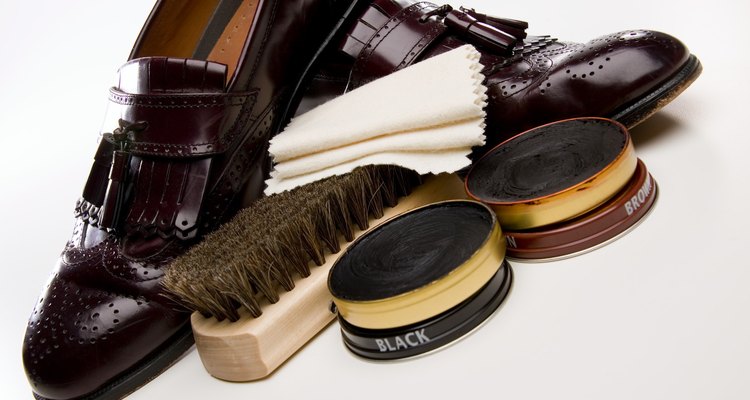 Jupiterimages/liquidlibrary/Getty Images
Caring for shoe shine brushes, in addition to cleaning them, requires using one brush per color and matching them with the right shoes. For example, leather and suede shoes need different brushes for the cleaning process.
Keep your brushes in a container, preferably in a shoe shine kit, to protect them from outside elements.
Use only one polish color per brush to prevent color contamination.
Soak brushes in soap and water to prevent polish and dirt buildup.
Brushes that are made of horsehair are best for leather shoes, and there are two types. One is a shoe polish brush, which is small with a round head and is used to apply the polish. The other is a shoeshine brush, which is used to clean the shoe surface before polishing, and then brush away excess polish after the shoes have dried.
When soaking these brushes, do not submerge in soap and water. Add just enough water to cover the tips of the brushes where they come in contact with the shoe surface.
Brushes for suede and nubuck shoes are made differently from leather brushes to accommodate the different surfaces. Usually called a suede brush, it has a rubber side to remove dust, dirt, and stains, and a bristle side used to lift the nap and brush away leftover material and dirt.
Wipe these brushes with a damp cloth to clean them.
Writer Bio
Alan Threadgill has been a freelance writer in the New York City area since 2000. He has written for the "Amsterdam News" and various websites. His experience includes business finance, songwriting for music production and event planning in Manhattan. Threadgill attended Howard University in Washington, D.C.
Photo Credits
Jupiterimages/liquidlibrary/Getty Images