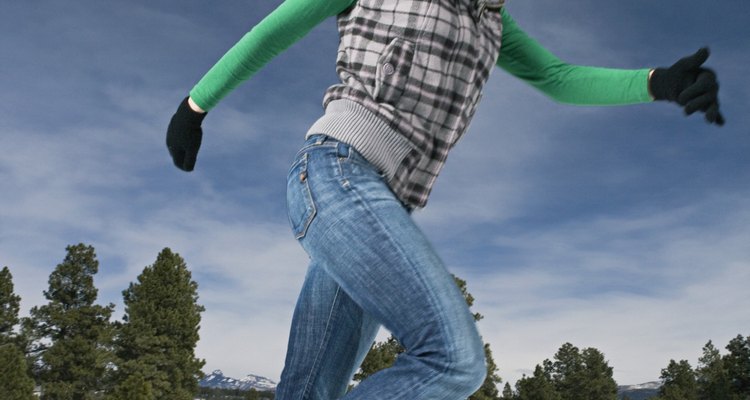 Brand X Pictures/Brand X Pictures/Getty Images
UGG boots are a common choice for year-round wear. Their sheepskin exterior and fleece lining make them warm and comfortable throughout the seasons. UGGs are not waterproof or stain-proof upon purchase. Before wearing UGG boots, you should coat them in a protective spray. This will make the boots more durable and allow them to keep their look for a longer period of time.
Set up a work space in a well-ventilated area. Bring the boots outside if it is not overly sunny, or inside to a room with windows or doors that can be opened.
Set the boots down on a sheet of newspaper. This will catch any excess stain-repellent, and keep other surfaces dry.
Spray the boots with a water- and stain-repellent. Apply the spray evenly, while holding the bottle 6 inches away. Continue until the entire sheepskin surface of each boot is wet, but not drenched. The UGG brand manufactures a repellent specifically for UGG boots, but similar products can also be found at shoe and department stores.
Allow the boots to dry for a minimum of 24 hours. Keep them away from direct heat and sunlight, preferably at room temperature.
Brush the boots with a suede brush to restore the original look. Lightly brush the fur downward using the soft side of the brush. Suede brushes are sold with the UGG brand water- and stain-repellent, or can be purchased separately at shoe or hardware stores.
References
Writer Bio
Celeigh O'Neil has been writing professionally since 2008. She has a Bachelor of fine arts from the University of Ottawa, as well as degrees in fashion illustration/design, digital arts and certification in hair and makeup artistry. O'Neil was a frequent contributor to Toronto's "Dialog" newspaper and has worked as an instructional writer, creating lessons in fashion, art and English for students of all ages.
Photo Credits
Brand X Pictures/Brand X Pictures/Getty Images