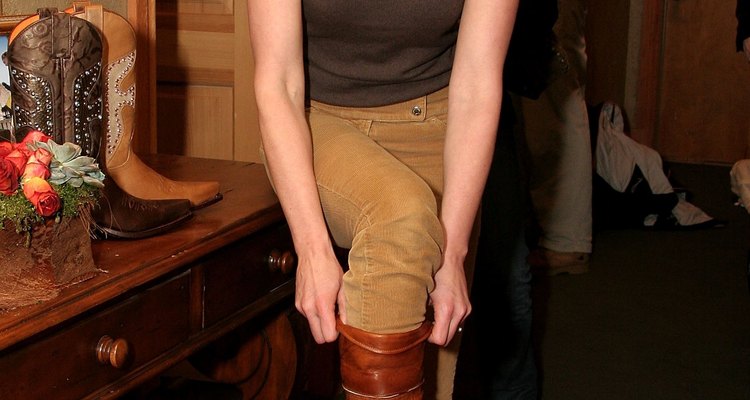 Marsaili McGrath/Getty Images Entertainment/Getty Images
Frye is a footwear company dating back the mid 19th century. The quality and variety of finishes available with these boots might create pause when considering how to polish them. Although each Frye boot is unique -- with the company offering multiple patina variations -- the methods and considerations in caring for them are the same as with any other leather article.
What Cannot Be Polished
Although any smooth leather may be polished using the appropriate neutral or pigmented wax, it's important to first note which leathers cannot be shined. Any suede or nubuck leather has a nap which becomes matted when exposed to polishes. Additionally, many Frye boots such as the Jayden Moto feature a distressed finish which may become obscured by applying pigmented wax over the surface. In these cases, using a spray-on water- or silicone-based protectant is the necessary route.
Cleaning and Prep
Any smooth leather Frye boot should be prepared for polish with a thorough cleaning. Without this step, dirt and contamination gets ground into the leather, reducing the beauty and lifespan of the boots. Cleaning the boots with a mild saddle soap and damp cloth removes stubborn dirt, while opening the leather's pores. Using a horsehair brush removes loose contamination prior to applying the soap. Once the boots are allowed to air dry, they are ready for polish.
Which Polish?
Frye offers boots spanning the various shades of tan, brown and cordovan, along with blacks and grays. The choice of polish is dependent on the tone and patina of the footwear. For example, boots featuring a specialty finish or contrasting stitching should be polished with a neutral wax to avoid coloring or obscuring these details. However, Frye boots with a monotone color scheme should always be polished with a wax that closely matches the tone of the boot. This helps enhance the natural color without altering the design of the product.
Polishing Process
Start by wrapping a clean, dry polishing cloth around your index finger. Swirl your finger in the wax, getting a decent amount on the cloth. Apply the polish in a firm circular motion on the boot, paying special attention to the welt and other seams. This aids in moisture resistance and thread durability. Treat the other boot while the first is allowed to dry. Buff each boot with a horsehair polishing brush. For additional sheen, flick a little tap water on each boot, then buff again.
Writer Bio
David Lipscomb is a professional writer and public relations practitioner. Lipscomb brings more than a decade of experience in the consumer electronics and advertising industries. Lipscomb holds a degree in public relations from Webster University.
Photo Credits
Marsaili McGrath/Getty Images Entertainment/Getty Images