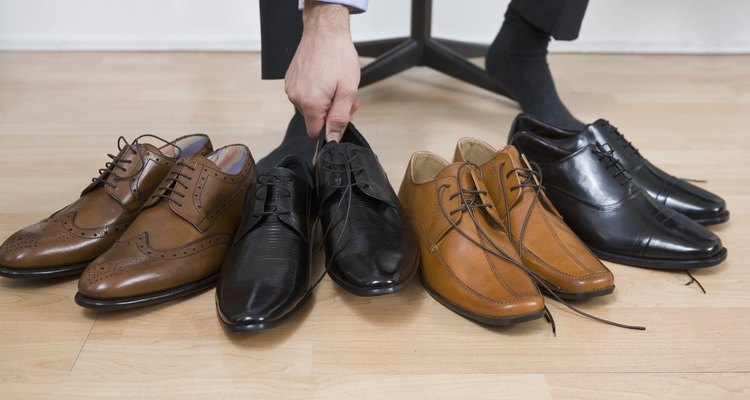 Jupiterimages/BananaStock/Getty Images
Proper shoe care requires a virtual arsenal of polishes, oils and brushes. Leather is animal flesh, which in shoe form is deprived of the natural fatty layers that continually resupply moisture into the material. That job is now yours -- as is making your footwear as clean and glossy as you can. Mink oil and shoe polish are key elements in this process, complementary tools in maintaining your shoes and boots.
Is Polishing Necessary?
The first step in determining how to attack your footwear is examining how the leather is treated. Oiled shoes and boots might be slightly rough to the touch, oily-feeling or simply lacking any obvious sheen. This footwear can often be brushed and re-oiled with just mink oil, while skipping the polishing step -- especially so if the boots or shoes are primarily for outdoor work and they require water-resistance and durability more than sheen. However, any shoe leather requires occasional rejuvenation, whether or not it is polished afterward or not.
What Is Mink Oil?
Mink oil is, not surprisingly, derived from the fatty subcutaneous layer of fat of the mink. The product is a natural replacement for the fats animals normally have to restore their coats -- which you'll use to restore your shoe leather. Oil is different than polish, in that the latter is usually wax or silicone-based, needed for final finish more than waterproofing or replenishing moisture. Apply mink oil in even coats with a cloth you reserve for this compound, allowing 10 to 20 minutes at minimum between coats or prior to polishing.
Polish or Creme?
Shoe polish and shoe creme are similar products -- often confusingly so. Since they're both tinted, there's a natural inclination to assume they're variations of the same product. In fact, shoe polish is not designed to apply any moisture to the leather as a creme is. However, they can be used in conjunction to apply a base coat of color while moisturizing with the creme, then filling scuffs and applying a high sheen with the polish.
How Do I Use Them?
Shoes and boots should be cleaned thoroughly with a horsehair cleaning brush, damp cloth and saddle soap. After all loose contamination is removed and the leather has dried, mink oil is applied using firm pressure, paying special attention to seams and the welt. This may initially darken the leather's tone. After the oil has had time to soak in, any excess is removed from the surface. Polish is applied over the shoe or boot, using a swirling motion. After the polish has set up, it is buffed off using a microfiber cloth or horsehair polishing brush. Further shine can be added by flicking drops of water on the footwear, then re-buffing.
References
Writer Bio
David Lipscomb is a professional writer and public relations practitioner. Lipscomb brings more than a decade of experience in the consumer electronics and advertising industries. Lipscomb holds a degree in public relations from Webster University.
Photo Credits
Jupiterimages/BananaStock/Getty Images