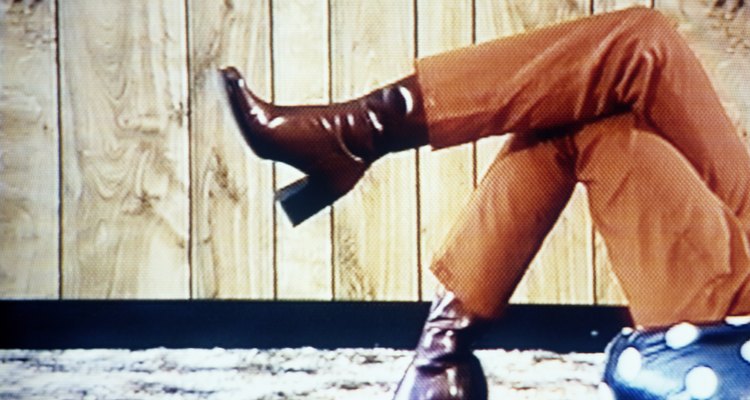 Agri Press/Lifesize/Getty Images
Oil-rubbed boots provide vintage, rugged styling to any wardrobe. Oiled boots develop a patina that only gets better with age; however, these boots still require regular treatment. Oil-based conditioning products penetrate the leather, providing enhanced moisture resistance and enriching the color. The right oil rejuvenates leather fibers, keeping the boots looking and feeling like new for years to come.
Animal-Based Products
Mink oil is a thicker compound, made from the fatty deposits under the coat of mink. Modern versions of this usually include some type of waterproofing agent, such as silicone. Mink oil is excellent at making leather boots waterproof, while imparting a deep, rich patina. Mink oil is a wise choice for workboots that require moisture resistance, durability and do not need to be polished. A favorite of tackers for many years, neatsfoot oil is a runnier alternative to mink oil. This compound is made from hoofs or other normally-discarded portions of cattle and other animals. Like mink oil, neatsfoot will darken leather significantly. However, neatsfoot offers a higher level of penetration than mink oil, ideal for rugged and harsher environments. Neatsfoot oil offers excellent moisture rejection.
Specialized Composites
Several oil-based conditioners mixed with other elements such as beeswax are available, restoring leather moisture and enhancing water resistance. Colloquially known as the "British Museum Leather Dressing Treatment," the combination of these ingredients keeps leather supple, preventing drying and cracking over time. Better versions of this type of product are unique among oil-based solutions, as they will not darken or otherwise alter the hue of the leather.
From the Medicine Cabinet
Petroleum jelly is a home-based method of restoring moisture to leather. It may also be utilized as a treatment targeted at seams and the welt, which is the critical seam that joins the sole to the upper. Petroleum jelly can be applied by finger, dauber or clean cloth. For best results, it should be applied, allowed to sit for a few minutes and the excess wiped away.
From the Pantry
Offering a superior level of suppleness to any boot, coconut oil is great for restoring natural moisture to leather. Although not necessarily cheaper than leather-specific products, it may already be in the kitchen pantry for use in a pinch. Unlike animal fats which break down leather over time, coconut oil simply replenishes essential moisture while imparting a noticeable sheen -- however, it will darken leather significantly. Conversely, olive oil is not recommended by leather boot manufacturers, as its use tends to hasten deterioration and discoloration.
References
Writer Bio
David Lipscomb is a professional writer and public relations practitioner. Lipscomb brings more than a decade of experience in the consumer electronics and advertising industries. Lipscomb holds a degree in public relations from Webster University.
Photo Credits
Agri Press/Lifesize/Getty Images