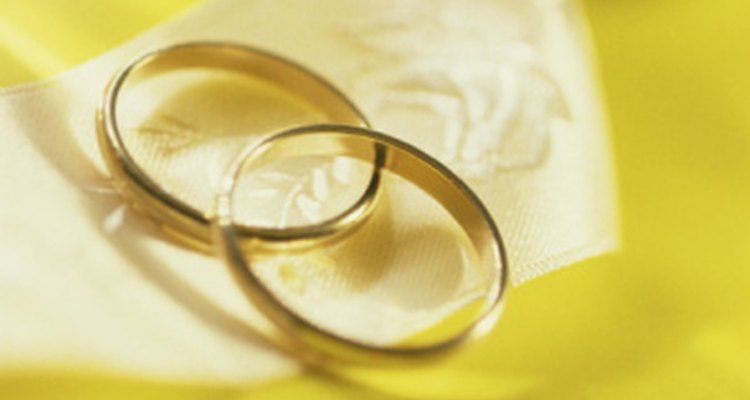 Jupiterimages/Photos.com/Getty Images
Fifty years together, the golden anniversary, is an amazing accomplishment that took time, patience and understanding to reach. Put that same effort and love into the gift to commemorate all of those years of hard work. There are many famous quotes that help convey the meaning that is in the hearts of lovers at this golden age, many of which can be summed up in a line or two, making it simple to write in a card or to memorize. Commemorate the special person on this special day with a memorable quote.
It Started with a Simple Ring
This quote is by an anonymous writer is very heartfelt.
"It started with a simple ring, many years ago, And now you have a treasure chest that's begun to overflow. For 25 years of married bliss, much silver did you store, And then you reached your 40th, with ruby stones galore! You traveled through life to 50 years of happy wedded bliss Your treasure grew with golden gifts, to toast your happiness But the treasure that you value most isn't jewels, silver or gold But the love you have for each other, that has never grown old! Congratulations on your Golden Wedding Anniversary." - anonymous
Shakespearean Love Quote
The poems and plays that Shakespeare wrote so long ago have stood the test of time and continue to be some of the most romantic material in the history of English literature. This excerpt from "Sonnet 104," although written to an old friend, is also appropriate for married couples that have stood the test of time.
"To me, fair friend, you never can be old,
For as you were when first your eye I eyed , Such seems your beauty still."
- William Shakespeare
Lighthearted Golden Marriage Blessing
Ruby Dee and Ossie Davis were known for their strong connection and 56 years of loving marriage before Ossie's untimely passing. A quote from their 50th wedding anniversary has recently become popular due to its lighthearted humor.
"That we arrived at fifty years together is due as much to luck as to love, and a talent for knowing, when we stumble, where to fall, and how to get up again." - Ruby Dee and Ossie Davis
This Special Golden Day
This is another quote by an anonymous author to fill the hearts of those celebrating 50 years of wedded bliss.
"Today as both of you look back with happiness and pride upon the fifty cherished years that you've spent side by side, May every memory that you share of dreams you've seen come true, help make this special golden day a happy one for you! On Your Golden Anniversary." - anonymous
References
Writer Bio
Based in southern Florida, Ashley Morgan has been a journalist and photographer since 2003. She has written for various online and print publications, including "Caribbean Travel+Life" magazine. Morgan holds a Bachelor of Arts in journalism from the University of Central Florida.
Photo Credits
Jupiterimages/Photos.com/Getty Images