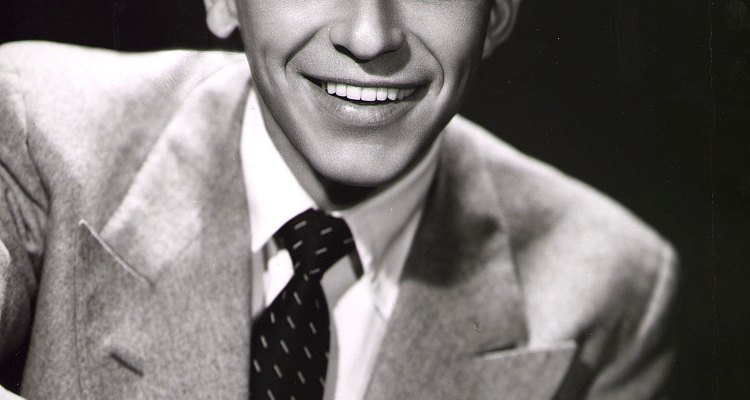 Getty Images/Getty Images Entertainment/Getty Images
Frank SInatra stands undisputed as a style icon. Making a statement in men's fashion is all about the details -- the cuffs, the handkerchief, the angle of the fedora. Sinatra was meticulously tasteful in his choices and found his own defining signature. If you like a dash of retro in your style choices, you could do worse than to borrow from Ol' Blue Eyes.
The Fedora
Sinatra.com offers the following advice on how to wear a hat the Sinatra way. "It takes two hands to put on a hat the right way: Back brim curled up, front tugged down to a couple of inches above the right brow." You'll want a wide-brimmed fedora -- he preferred felt -- and remember to take it off when you go indoors.
The Suit
Frank Sinatra insisted on certain rules when it came to the wearing of suits. "Have shirt cuffs extended half an inch from the jacket sleeve," Sinatra.com quotes him as saying. "Trousers should break just above the shoe. Try not to sit down because it wrinkles the pants." Sinatra also stated that you should always wear black after dark, and when in doubt go for black tie except on Sundays.
The Vest
When Sinatra was feeling casual -- only in the daytime, of course -- he would sometimes drop the jacket and wear a sweater vest over his dress shirt and tie. Sweater vests can be pullover or button-up. Ideally, they will be cashmere, but cotton or wool will do, too.
The Accessories
Opt for French cuffs and cuff links for your dress shirt, but skip the novelty cuff links. Sinatra preferred gold. Wear a tie made of silk -- in a conservative pattern, please. Sinatra always wore an orange pocket handkerchief, crisply folded, because "orange is the happiest color." You, of course, are free to choose any color that pleases you as long as you keep the edges neat. You are also free to do without, but they do add a certain flair to a suit.
The Shoes
Stick with black shoes and you can't go wrong. And most importantly, according to Sinatra, shine them -- or at least buff them up -- before you head out.
References
Writer Bio
Lori A. Selke has been a professional writer and editor for more than 15 years, touching on topics ranging from LGBT issues to sexuality and sexual health, parenting, alternative health, travel, and food and cooking. Her work has appeared in Curve Magazine, Girlfriends, Libido, The Children's Advocate, Decider.com, The SF Weekly, EthicalFoods.com and GoMag.com.
Photo Credits
Getty Images/Getty Images Entertainment/Getty Images