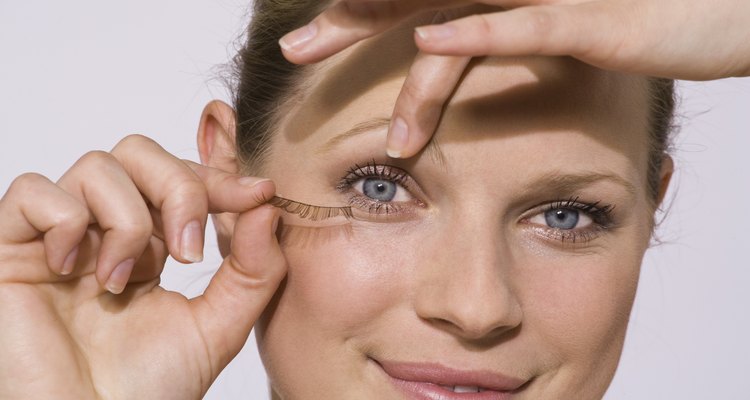 Jupiterimages/Pixland/Getty Images
False eyelashes can give you bold dramatic eyes or create a more subtle look, depending upon the lashes you choose. False eyelashes are available in a variety of styles and thicknesses, including both demi, or short, and full lash styles. Regardless of the type of lashes you choose, mastering the art of wearing artificial lashes will make your eyes pop.
Lash Styles
False eyelashes are available in three basic styles. Full lashes rim the entire eyelid. Demi lashes are a shorter length, worn in the outer corner of the eye. You can also buy single lashes to add a subtle length and fullness to your own. Single lashes are typically the least noticeable and full lashes the most dramatic, with demi lashes falling in between.
Fullness and Length
While the style of lashes you choose matters, the fullness and length of the lashes also play a role in how they look on your eyes. Choose very long and full lashes for a playful and over-the-top style. Wispier, shorter lashes will look more natural and are more appropriate for many occasions, particularly if you want to draw attention to your eyes, not your false lashes. Finer, shorter lashes also blend with your own lashes better, which is especially important for demi lashes.
Trimming your Lashes
Whether you've chosen full or demi lashes, before you glue them into place, hold them up to your eye, against your own lashes. Note how the false lashes fit and remove them from your eye. Use a pair of sharp scissors to trim the false lashes to fit your eyelid, cutting the fine membrane connecting the lashes. You can also trim full lashes to create a demi lash if you prefer.
Applying the Lashes
Apply eyeliner before you put on false lashes, choosing a thick liquid liner if possible. Allow the liner to dry completely. Apply a very small amount of eyelash glue to the lashes and allow it to become tacky, following the instructions for the eyelash glue. Press the lashes into your eyelid, pushing securely into the lash line. Begin in the inner corner if you're wearing full lashes or at the center point if you're wearing demi lashes. Allow the glue to dry completely before applying two to three coats of mascara to blend the false and natural lashes.
References
Writer Bio
With a master's degree in art history from the University of Missouri-Columbia, Michelle Powell-Smith has been writing professionally for more than a decade. An avid knitter and mother of four, she has written extensively on a wide variety of subjects, including education, test preparation, parenting, crafts and fashion.
Photo Credits
Jupiterimages/Pixland/Getty Images