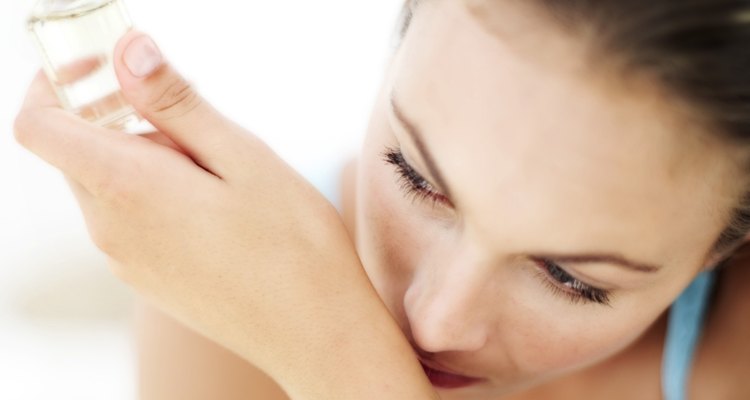 Stockbyte/Stockbyte/Getty Images
When it comes to smelling great, perfume isn't the only game in town. Some ladies may be allergic to certain perfumes or just simply want to try something new. Perfumes can also be overly heavy during the hot months of summer. Whatever your reason, you'll be happy to know that there are many alternatives to perfume, all of which will leave you beautifully scented.
Scented Body Washes
If you're looking to go a little understated, swap out your unscented soap for a scented body wash. Body washes come in a variety of flavors so whether you want something fruity, something herbal, or anything in between, you're sure to find a body wash that works well for you. Just squeeze a bit onto a loofah and lather up.
Body Lotions
For an extra boost, layer a scented body lotion over your body wash. You can wear your lotion after you've showered with a scented wash or can use it in place of a wash. To create a more dimensional look, create your own signature scent by layering a few different smells over each other. Hand creams also come in lovely scents, so add an extra scented layer, or apply the same scent body wash, lotion and cream for more definition.
Essential Oils
Essential oils provide a concentrated smell that can be fairly similar to perfume. Apply your oil just as you would a perfume -- a dab on the wrists and behind the ears is your best bet. Because your oil is applied directly to your skin, you have better control of when and how your scent is dispersed. If you'd like an extra scented effect, spritz on a bath water directly after applying your oil to layer your aromas. Or, put a few drops of your oil into an unscented lotion and slather it all over.
Aromatic Deodorants
If you want to keep things really understated, pick your favorite good-smelling deodorant and apply only that to create a very delicate scent. Deodorants, like body washes and lotions, come in a variety of aromas. Wear a floral scent, or go a bit musky with scents of sandalwood or vanilla -- any scent you like will be perfectly subtle.
References
Writer Bio
Pamela Simmons has been writing professionally since 2009. Her articles on fashion, beauty and other topics have appeared on Denim Therapy and other websites. Simmons serves as an editor and public relations manager for CHIC.TV. She holds a Bachelor of Science in international affairs from Georgia Tech and a Master of Business Administration from Mercer University.
Photo Credits
Stockbyte/Stockbyte/Getty Images