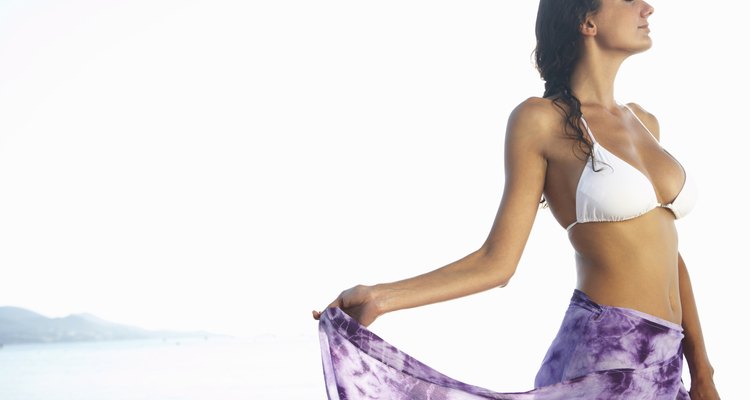 Maria Teijeiro/DigitalVision/Getty Images
Acne forms when pores in your skin get clogged. This leads to blackheads, whiteheads, pimples and cysts. These frequently occur on the face, chest or back. Chest acne can be embarrassing and noticeable, especially if you are wearing a low-cut shirt or swimsuit. But there are ways to cure chest acne and prevent it in the future. Until then, cover it with makeup or wear clothing that does not reveal your chest.
Cover It Up
Choose a concealer in a tone a little darker than your skin. Make sure it is hypoallergenic, noncomedogenic and nonacnegenic so it will not clog your pores.
Dip a cotton swab in peroxide and wipe the swab over the area.
Mix the concealer with salylic acid and apply to the acne.
Brush some bronzer over your chest. Acne tends to blend into tan skin better.
Wear a cotton crewneck shirt that does not reveal your chest until the acne clears up. Cotton is the most breathable fabric, so sweat will soak into the shirt instead of your skin.
Cure It
Do not try to squeeze or pick at your acne. This will only make it worse and more noticeable.
Treat acne with a product that contains benzoyl peroxide or salicyclic acid.
Do not scrub your chest, because this can irritate it and make your breakout more pronounced.
Prevent It
Wash your chest as soon as you finish working out, because sweat and dirt can clog pores.
Shower daily, and then apply a mild cleanser to clean skin.
Use oil-free products to avoid future clogging. For the chest, this usually means oil-free lotions and sunscreens.
References
Writer Bio
Chris Callaway started writing professionally in 2007 and has worked as sports editor, managing editor and senior editor of "The Racquet" as well as written for the "La Crosse Tribune" and other newspapers in western Wisconsin. He graduated from the University of Wisconsin-La Crosse with a Bachelor of Arts in English and communications.
Photo Credits
Maria Teijeiro/DigitalVision/Getty Images