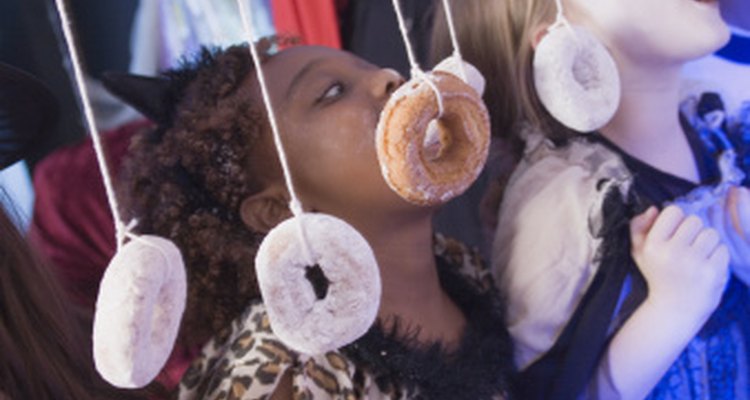 Comstock Images/Comstock/Getty Images
Give your 7th grader the party she will always remember. Nearly everyone enjoys theme parties at any age, and tweens are no exception. Remember to provide lots of food and drink options including those for vegetarian and vegan children, and supervise the party to ensure everyone is having fun and no one is feeling left out.
Spa Party
A party idea for 7th-grade girls is the spa-theme party. Tables can be set up for assorted spa projects such as a table for manicures, which can include an assortment of nail polishes, nail buffing tools and files, cuticle creams and nail hardeners. Other table ideas include a facial table where girls can choose from assorted face masks and scrubs and an area for foot soaks. Bowls of candy, fluffy robes and lots of magazines add to the party experience.
80s Theme
Use the 1980s as the inspiration for your decade party theme. Have the kids dress up if desired or provide clothing items and accessories for kids to change into, such as stacks of rubber bracelets, leg warmers, 80s sunglasses, shirts with shoulder pads, members-only jackets and tools for creating big hair, including hairspray and fine-tooth combs. Music from the 1980s can be played including tunes from Cyndi Lauper, Madonna, Huey Lewis & the News, Robert Palmer and The Cars, and 80s-theme movies can be watched such as "Sixteen Candles" and "Back to the Future."
American Idol Theme
Have the kids play "Tween Idol" using a karaoke machine and a variety of the kids' favorite tunes. Auction websites are a resource for karaoke machines if you don't want to purchase one new. Some of the kids can play the judges while others can play the host and contestants. Each performer should come out one by one to perform just like "American Idol." "Idol" trivia games and video games are also options for kids who don't like to sing.
Pool Party
Those with pools can throw a tween pool party, which can include setting up a water volleyball net. Other pool accessories such as rafts and beach balls can also be used. Provide an area for tropical frozen drinks, such as virgin pina coladas and strawberry daiquiris, as well as an ice chest for Popsicles and other frozen treats. A table for sunblock is also an option, and areas for beach chairs.
References
Writer Bio
Kent Page McGroarty has worked as a writer since 2006, contributing numerous articles to various websites. She is a frequent contributor to the health and fitness sections of the online magazine EDGE Publications and holds a Bachelor of Arts in English from Saint Joseph's University.
Photo Credits
Comstock Images/Comstock/Getty Images