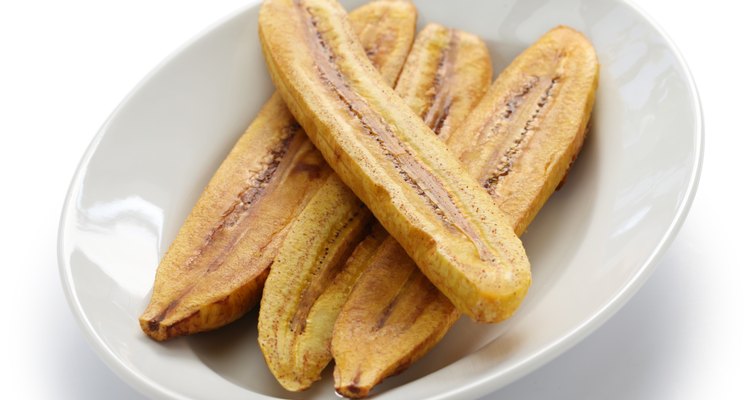 bonchan/iStock/Getty Images
Though plantains look deceptively like bananas, the resemblances are only skin-deep. Plantains boast a starchy texture and bland flavor, developing only a slight hint of sweetness in the latter stages of maturity, when the peel turns brown and black. With minimal calories and abundant vitamin C and potassium, plantains are a healthy addition to a meal or can serve as a light snack. Grilling and baking plantains are two simple methods that highlight the natural flavors of these versatile fruits.
Grilled Plantains
Heat the grill to medium heat.
Slice the plantains in half lengthwise.
Brush the cut side of the plantain with your choice of butter or cooking oil and season with savory seasonings such as salt and pepper, or honey and cinnamon for a sweeter dish.
Place the plantains on the grill with the cut side facing up. Place the lid over the grill and allow the plantains to cook for 5 to 7 minutes.
Turn the plantains over and allow them to cook for 3 to 5 minutes more. The skin will begin to peel away from the plantains when they are done.
Serve the plantains hot with lime wedges, fruit preserves or other desired toppings.
Baked Plantains
Wash the desired number of plantains under cool, running water.
Cut away the end pieces and slit the plantains lengthwise with a sharp knife. The slit should be enough to go through the skin and into the flesh, but not so deep as to cut the plantain in half.
Line a cookie sheet with aluminum foil and place the plantains onto it in a single layer. The aluminum foil will help to make cleanup easier.
Bake the plantains for 40 minutes. They will tender when they are done.
Remove the plantains from the oven and allow them to cool enough to handle before slicing them in rounds or lengthwise strips. Serve topped with butter or fruit preserves.
References
Tips
Darker plantains taste more similar to bananas than green ones. Avoid plantains that are mushy or cracked.
Writer Bio
Melynda Sorrels spent 10 years in the military working in different capacities of the medical field, including dental assisting, health services administration, decontamination and urgent medical care. Awarded the National Guardsman's Medal for Lifesaving efforts in 2002, Sorrels was also a nominee for a Red Cross Award and a certified EMT-B for four years.
Photo Credits
bonchan/iStock/Getty Images