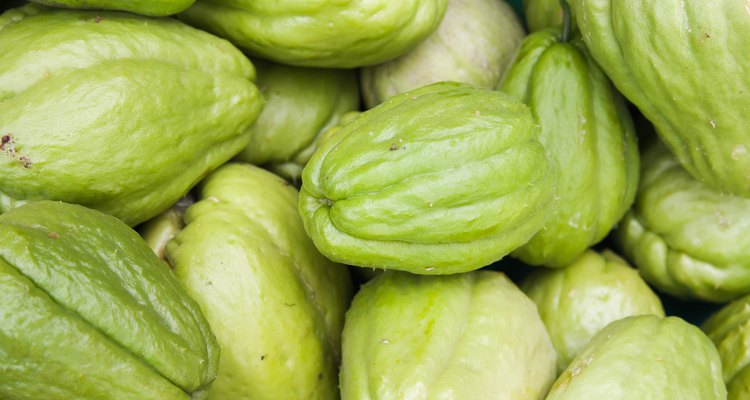 eugenesergeev/iStock/GettyImages
Sometimes known as the christophene or chocho, the chayote squash originated in Mexico, though it now grows in tropical areas around the world. Thanks to its international distribution, chayote is featured in Latin American, Caribbean, Cajun, Asian and African cuisines. The squash has a relatively mild, slightly sweet flavor and can be eaten raw or cooked. Available in the fall, winter and spring, chayote is wonderful grilled and makes for an excellent quick-cooking side dish. Look for chayote squashes at Latin American and Asian markets.
Peel the skin off the chayote with a vegetable peeler. Slice the squash in half lengthwise with a chef's knife and scoop out the pit with a spoon.
Cut the chayote into 1/4-inch-thick slices. Chayote has rather dense flesh and can take a while to cook thoroughly, so cutting it into thin slices, no more than 1/4 inch, reduces cooking times.
Brush the chayote slices generously with olive oil and sprinkle with salt. Place the slices on a charcoal or propane grill over medium-high heat. If you prefer to cook the chayote indoors, you can use a grill pan over medium-high heat instead. Grill the chayote until it is tender and gently charred, about 3 to 4 minutes per side.
References
Writer Bio
Irena Eaves began writing professionally in 2005. She has been published on several websites including RedPlum, CollegeDegreeReport.com and AutoInsuranceTips.com. Eaves holds a Bachelor of Science in journalism from Boston University.