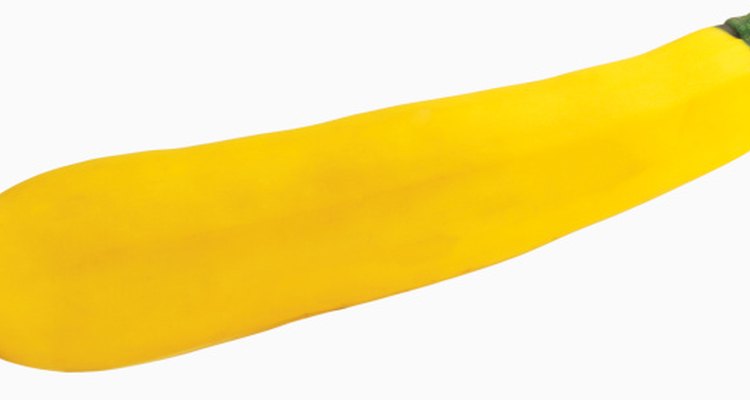 George Doyle/Stockbyte/Getty Images
Zucchini is generally recognized as a long, cylindrical, green squash resembling a cucumber -- and refer to yellow squash as "summer squash." In reality, both are a form of summer squash and can vary in size, shape and color.
Types
Summer squash includes yellow straight-neck, crook-neck and scalloped varieties. It also includes a variety of zucchini, a kind of Italian marrow squash. Zucchini types range from the traditional cylindrical fruits to the Eight Ball zucchini, round and about the size of a softball.
Features
Zucchini ranges in color from dark green, or almost black, to varying shades of green -- with or without stripes. The yellow or golden zucchini is shaped like the typical cylindrical zucchini, but develops a deep golden color as it matures.
Flavor
The yellow zucchini retains the typical zucchini flavor and firm texture, but is slightly sweeter. It does not taste like traditional crook-neck and straight-neck squash, as their texture is a bit softer and flavor is milder.
Uses
Yellow or golden zucchini adds color to zucchini dishes. It can be eaten raw in salads, cut into bite size pieces and served with dip, or steamed or fried in zucchini recipes.
References
Writer Bio
Nannette Richford is an avid gardener, teacher and nature enthusiast with more than four years' experience in online writing. Richford holds a Bachelor of Science in secondary education from the University of Maine Orono and certifications in teaching 7-12 English, K-8 General Elementary and Birth to age 5.
Photo Credits
George Doyle/Stockbyte/Getty Images