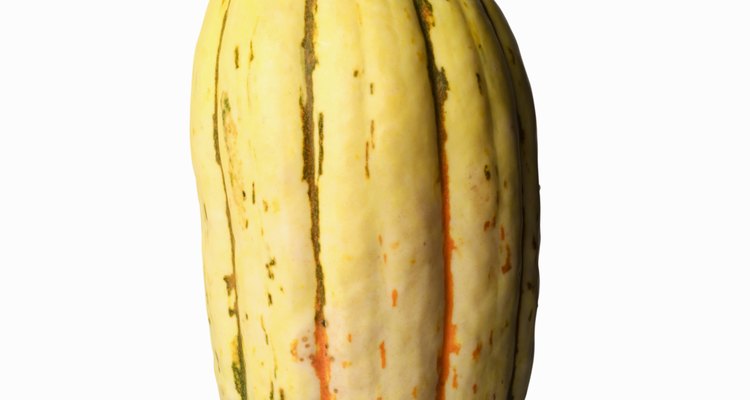 Stockbyte/Stockbyte/Getty Images
A type of winter squash sometimes referred to as sweet potato squash, delicata squash (Cucurbita Pepo) is related to other winter squash such as pumpkin, acorn squash and butternut squash. Delicata squash, harvested in late summer and early autumn, has white, cream or tan rinds with dark green stripes, depending on the variety. Although most winter squash have hard, tough rinds, the rind of delicata squash is thinner, making this sweet, flavorful squash easier to prepare.
Prepare the Squash
Step 1
Scrub the rind lightly with a vegetable brush while you hold the squash under cool, running water. Do not use soap.
Step 2
Place the squash on a sturdy cutting board. Cut the squash in half lengthwise, using a knife with a long, thin blade. Cut next to the stem and don't attempt to cut directly through the stem.
Step 3
Scoop out the stringy pulp with a metal spoon.
Oven
Step 1
Place one-quarter inch of water in a baking dish.
Step 2
Put the delicata squash halves in the baking dish with the cut sides down.
Step 3
Bake the delicata squash halves at 350 degrees Fahrenheit for about 45 minutes, or until the squash is tender when you poke it with a fork. Larger halves may take longer to cook.
Microwave
Step 1
Place the squash halves in a microwave-safe baking dish.
Step 2
Cover the baking dish with plastic wrap.
Step 3
Microwave the squash halves for six to seven minutes with the microwave on high power. Rotate the dish, then cook the squash for an additional six to seven minutes, or until the squash is tender. Check to squash every two to three minutes, because cooking times vary depending on the size of the squash and the power of your microwave oven.
Step 4
Allow the squash to sit for five minutes before serving.
References
Writer Bio
M.H. Dyer began her writing career as a staff writer at a community newspaper and is now a full-time commercial writer. She writes about a variety of topics, with a focus on sustainable, pesticide- and herbicide-free gardening. She is an Oregon State University Master Gardener and Master Naturalist and holds a Master of Fine Arts in creative nonfiction writing.
Photo Credits
Stockbyte/Stockbyte/Getty Images