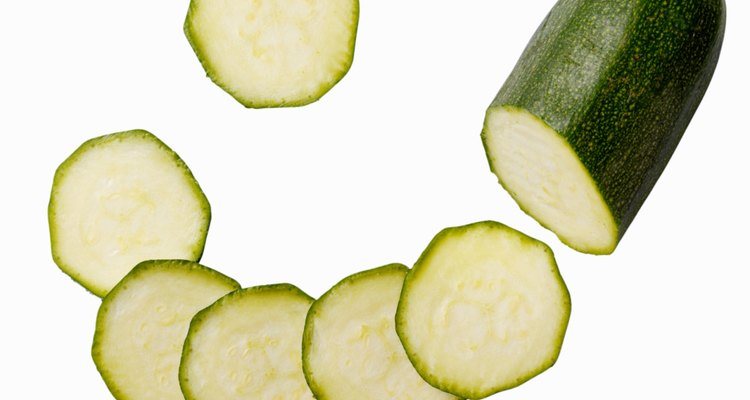 Stockbyte/Stockbyte/Getty Images
Summer squash includes zucchini, yellow squash, pattypan and many other varieties. Harvested while immature, summer squash has a soft rind and tender flesh that makes it fast, simple and delicious to cook in a variety of ways. Zucchini has a long, cylindrical shape that is dark green to light green in color. Yellow squash has either a crooked neck or straight neck and is generally larger in diameter than zucchini. The two combine into a colorful, flavorful dish.
Select squash that is firm to the touch, no more than 6 to 8 inches long and up to 2 inches in diameter to ensure tender flesh and minimal seeds. Wash the squash under warm running water, scrubbing thoroughly with a vegetable brush. Pare away blemishes.
Cut off and discard both ends. Cut the remaining squash into coin-shaped slices, approximately ¼-inch thick.
Pour just enough oil in the skillet to cover the bottom and heat it over medium-high heat until a single drop of water sizzles and pops. Use corn, canola or olive oil for sauteing.
Spread the squash slices in the skillet no more than two layers deep. Sprinkle with salt and pepper to taste. Add already softened onions and mushrooms, minced garlic or dried herbs, red pepper flakes or other vegetables to add a mix of flavors to the squash, if desired.
Turn the squash repeatedly with a spatula so it doesn't stick to the pan. Cook for approximately 4 to 5 minutes, or until it reaches your desired tenderness. Alternatively, continue to cook the squash over medium-high heat until the outside begins to crisp and brown.
References
Writer Bio
Freelance writing since 2009, Tom Ross has over 30 years of corporate management and hands-on experience in the supermarket industry. Ross was featured on the cover of "Instore Buyer" magazine and his articles have appeared on various websites.
Photo Credits
Stockbyte/Stockbyte/Getty Images