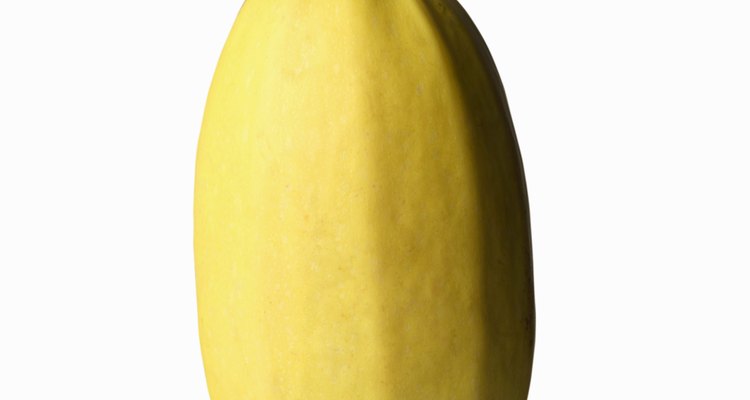 Stockbyte/Stockbyte/Getty Images
Like all winter squash, spaghetti squash is done when you can easily pierce a fork into its skin. But the aptly named spaghetti squash has another indicator of cooking perfection. When it is done, you can easily shred its flesh into thin, sturdy strands that resemble pasta. Full of nutrients and gluten free, spaghetti squash is a popular replacement for pasta in many dishes. Toss shredded spaghetti squash strands with any pasta sauce.
Better by Half
The easiest way to cook spaghetti squash is to carefully slice it in half. Scoop out the seeds and place the halves, flesh side down, on a baking sheet. Cook in a 350 degree Fahrenheit oven for 45 to 60 minutes. The squash is done when you can easily insert a fork into the the skin or flesh and shred the flesh into spaghetti-like strands. To make sure the squash is done, rinse a few strands under cold water and taste. They should be absolutely tender. If you notice any toughness, return the squash to the oven for a few more minutes.
Resources
Writer Bio
Laura McGowan has written and edited for universities and educational publishers for more than 13 years. She has also covered gardening and wild plant and animal life of Illinois and brings expertise in vegan and vegetarian cooking, Apple computers and Labrador Retrievers. McGowan holds a Master of Arts in English literature.
Photo Credits
Stockbyte/Stockbyte/Getty Images