The 50th wedding anniversary has long been celebrated as the "golden anniversary." In fact, in medieval Germany, men would present their wives with a golden wreath on their 50th anniversary to symbolize harmony. Celebrate a golden anniversary with beautiful floral arrangements that incorporates memories from the couple's wedding day or from previous anniversary celebrations.
Wedding Flowers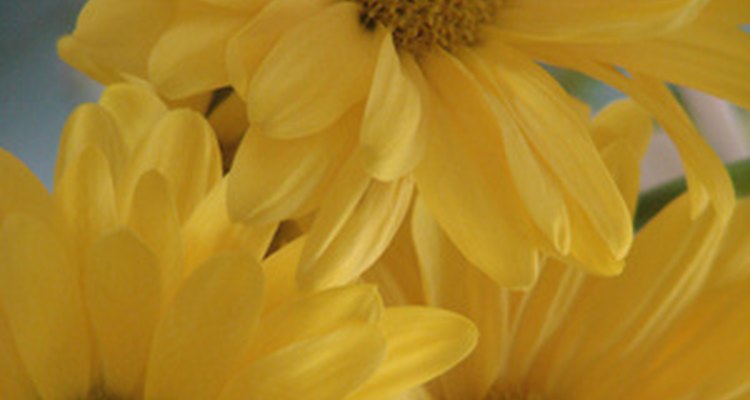 Make a floral arrangement incorporating the kinds of flowers from the couple's wedding day. If the bride and bridesmaids carried different types of flowers, alternate vases of each flower. To honor the 50th anniversary, purchase yellow versions of the wedding flowers, if possible, to recall memories from the couple's wedding and signifying their 50 years together.
Violets and Yellow Roses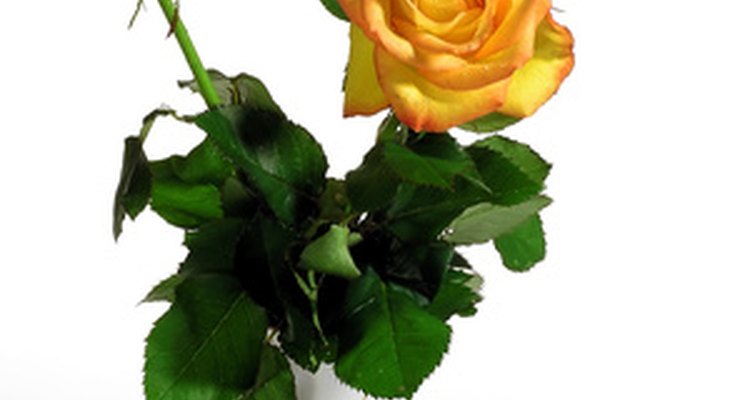 Yellow roses and violets are associated with the 50th wedding anniversary. Beaverton Florists in Oregon notes that yellow roses represent the inner light and beauty of a long, prosperous marriage. Violets are said to symbolize virtue, modesty and faithfulness. Arrange vases of tall yellow roses complemented by sprigs of violets and baby's breath. Prop a card next to each vase to enhance the floral centerpieces and explain the significance of the flowers to family and friends.
Flowers from Anniversaries Past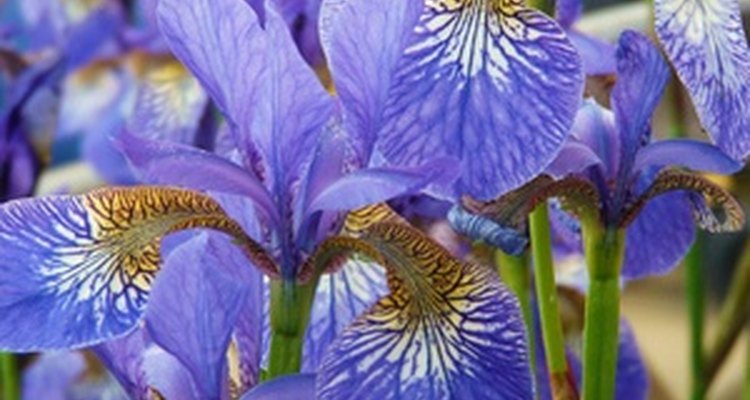 Interview the couple to find out their favorite wedding anniversaries. Gather a story or warm memory from each of these anniversaries, and use flowers associated with the anniversaries to create floral arrangements. If, for example, the couple recounts a funny memory of their 25th wedding anniversary, make up a bouquet of irises, the flower associated with the 25th anniversary. Use baby's breath to accent the flowers and make up a card to place near the bouquet recounting the couple's story. On another table, place a vase of colorful carnations, the flower associated with the first wedding anniversary, and a card detailing a memory from the couple's first wedding anniversary. When the 50th anniversary celebration has ended, press some of the flowers from the floral arrangements and place the dried flowers and cards of memories in a scrapbook for the couple as an anniversary gift.
References
Writer Bio
Rebecca Nelles holds a Bachelor of Arts degree in English from Eastern Illinois University. Additionally, she has earned minors in both creative writing and women's studies. She has been published on eHow.com and also in Eastern Illinois University's literary journal, "The Vehicle."
Photo Credits